When my cousin told me that her and my nephew were coming over for dinner on Saturday, I knew I wanted to make a show-stopper dessert. Something big and fabulous. Something chocolate. A cake preferably.
I had a box of Devil's Food Cake Mix in my pantry that I was sort of itching to use in some way. I didn't want to completely make the cake with the cake mix (a food blogger no-no), but I had heard of tricks and tips to add to the standard cake mix to make it taste homemade. The most common trick I saw was the addition of pudding mix.
Right after whipping up the batter with the chocolate pudding mix, I could immediately tell that the cake was going to be richer and more decadent. The batter was thicker and darker than the standard cake. The finished product was so moist and chocolatey! It didn't taste at all like standard cake mix.
After cheating (slightly) on the cake, I knew I wanted to spruce it up. And what better way to do that than cookie dough filling and my favourite chocolate buttercream?!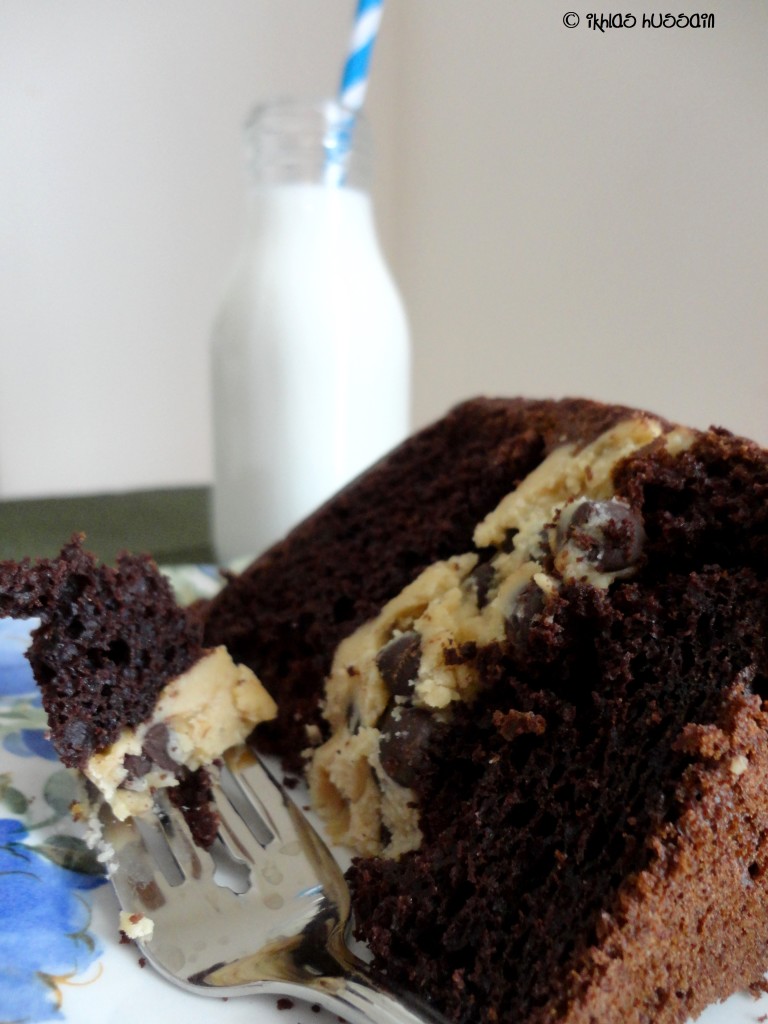 Omg, eating this slightly warmed up in the microwave, guys? NO WORDS. The moist, chocolate cake envelopes the buttery, smooth chocolate chip cookie dough frosting, all while being cocooned by a rich, dreamy chocolate buttercream. It was so good that I was really sad when it finished!

Check it out and let me know if you try it! 🙂
Recipe: Chocolate Pudding Cake with Cookie Dough Frosting
Ingredients
1 box Devil's Food Cake Mix (plus ingredients on back of box)
Chocolate pudding mix (dry)

For the cookie dough frosting:

1/2 cup butter, softened
3/4 cup brown sugar
1 tsp vanilla
1 1/4 cup flour
1/4 tsp salt
4-6 tbsp milk
1 cup chocolate chips (mini or regular)

For the chocolate buttercream:

2 3/4 cups icing sugar
6 tbsp unsweetened cocoa powder
6 tbsp butter, softened
5 tbsp milk
1 tsp vanilla
Instructions
Preheat oven to 350 degrees F and grease two round 8 inch cake pans. Set aside.
In a large bowl, sift together the dry cake mix and the pudding mix. Add the wet ingredients and beat until well mixed.
Bake 25 to 30 minutes, or until a toothpick inserted in the centre comes out clean. Set aside and let cool completely.

For the cookie dough frosting:

In the meantime, cream butter and sugar together in a bowl. Add vanilla and mix well. Next, add flour to the mixture, and then milk, being sure to scrape down the sides of the bowl. Fold in chocolate chips. Scoop onto one cake round, sandwiching the cookie dough frosting in between two cake rounds.

For the chocolate buttercream:

Sift icing sugar and cocoa powder in a separate bowl and set aside.
In another bowl, cream butter until smooth, and then slowly add the dry mixture, adding in a tablespoon of milk in between, until the mixture is at the desired consistency. Add vanilla and then mix well.
Add a thin coat of frosting to the cake )crumb coat) and refrigerate for 30 minutes. Once the frosting has set, frosting with remaining frosting and decorate accordingly. Store in airtight container in the fridge.
http://ikhlashussain.com/2013/05/recipe-chocolate-pudding-cake-with-cookie-dough-frosting/
The cookie dough recipe is the same as the one I used to frost my Brownie Cupcakes, except I added more milk. I kind of eyeballed it, but I think I used between 4 to 6 tablespoons to make the frosting a bit more spreadable for the inside of the cake. Nestled inside the moist, chocolatey cake, the cookie dough filling is a delicious, buttery surprise. 🙂
I've already raved about my chocolate buttercream enough; I used it to frost my Chocolate Cupcakes and my Tuxedo Cheesecake Cupcakes because it is just so creamy and dreamy. Here, I kept the recipe the same from the cupcakes, only I spread it around with a spatula and then piped a (wonky) rose on top.
I'm so glad I discovered the trick of adding pudding mixes to cake mixes; it's a neat trick for when you're short on time and want to use a cake mix for a shortcut. It added an extra depth of chocolate flavour, which isn't found when you make the cake mix as-is. I also switch the water for milk, and have been doing so for years; it too makes the cake mix cake so much more moist and tasty.
The pudding chocolate cake itself isn't too sweet, but twirling your fork through moist bites of cake with cookie dough frosting and chocolate buttercream makes up for that. Studded with chocolate chips, each bite of cookie dough frosting is creamy and buttery, while the buttercream is light and sweet.
After making the entire cake Saturday afternoon, I was exhausted. But when I dug my fork into a slice after dinner on Saturday, I couldn't stop eating it. SO good!
I really hope you guys try it out! If you want to try the mini version, check out my Brownie Cupcakes with Chocolate Chip Cookie Dough Frosting Cupcakes below. SO good, and so okay to have more than one. 😉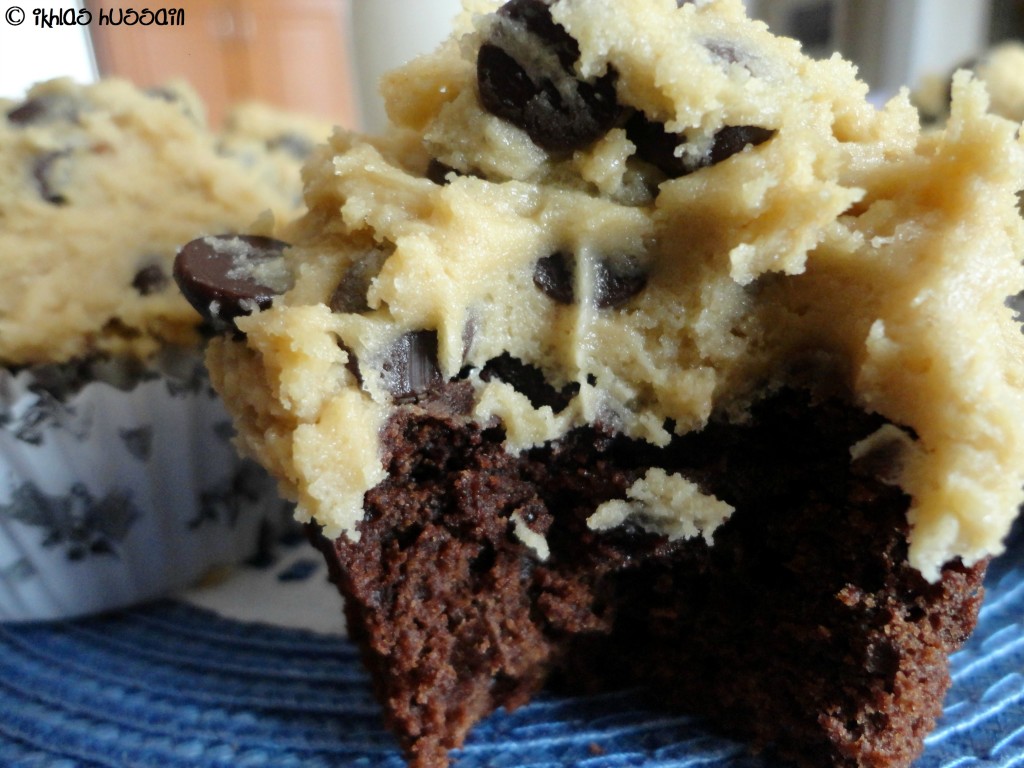 Hope you're all having a fabulous day! 🙂
Ikhlas