Hello! So some of you  might be wondering where this week's recipe is, since it has yet to be posted, but unfortunately there won't be one. 🙁
I made soft pretzels last weekend, but they turned out too tough and not at all soft, so I've decided not to share them until I practice some more and get it right. I don't know where I went wrong, but I have a feeling I kneaded the dough too much.
I am undertaking a new project though, in regards to the recipes found on this blog. Looking back at my earlier pictures, you might notice that the pictures are quite amateur-ish and really quite poor. So I'm going to try and photograph an old recipe every weekend, along with making a new recipe as usual. The recipes will most likely stay the same; it'll only be the pictures that'll change. First up to get a makeover is one of my all-time favourite recipes: Streusal Topped Banana Muffins!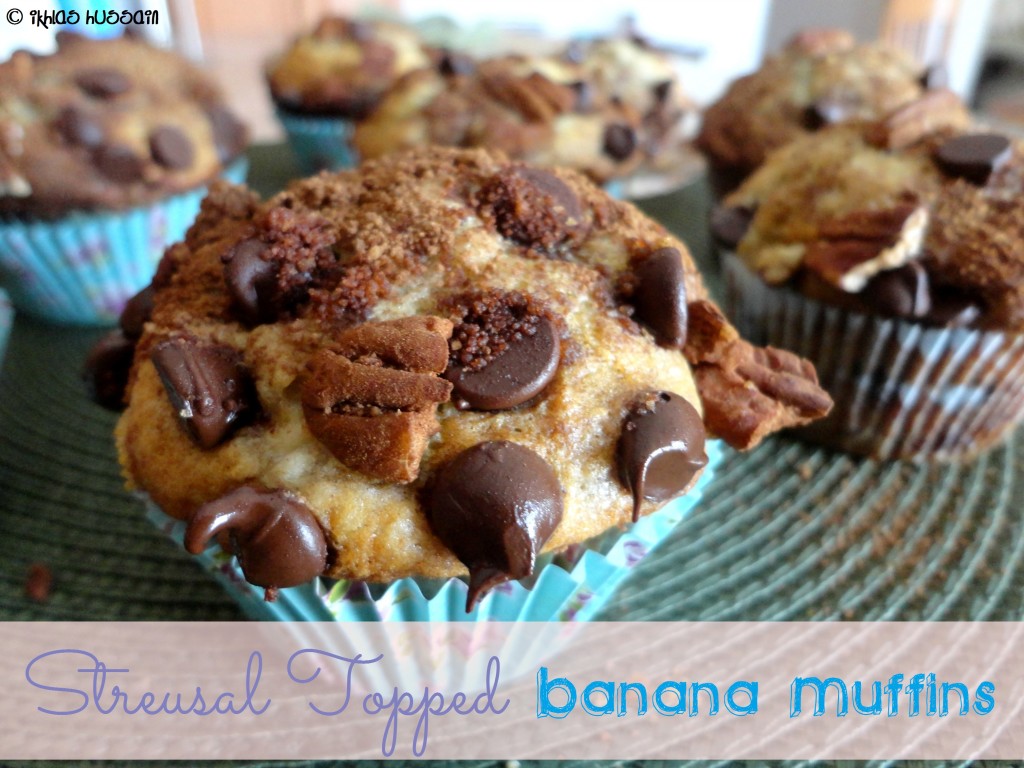 If you haven't tried these yet, what're you waiting for?! They're super easy, and the streusal topping on top adds a bonus. 🙂
Since I don't have a recipe to share this week, I'd thought I'd do a chit-chat post, just catching you guys up on what I've been doing this week. 🙂
So I decided to start running this week. And by running, I actually mean walking, since I can't run to save my life. Don't judge me. 😛 I figure I should start with what I can do, which is fast walking, and then eventually I'll work my way up to running.
If you guys should know anything about me, it's that I hate exercise. So me actually choosing to put on running shoes (which I didn't own) and track pants (which I also didn't own), is kind of big deal.
It's only been 2 days so far, but my legs are already kind of aching, and it kind of hurts to walk right now. -_- But I'm trying very hard not to give up and keep going! If you see me passed out anywhere on the side of the road, it was probably because of this. Lol.
I'm trying to lose 10 pounds before my cousin's wedding in July, and my current diet is not working at all. So I figured it was time to introduce something new into my routine to see if it speeds up the process. I have officially less than 2 months- yikes! Wish me luck!
Speaking of my cousin's wedding, there's a whole bunch of parties coming up in anticipating for the big day. If you're South Asian, have South Asian friends, or have even watched a Bollywood movie, you'll know that there's about a zillion parties right before the actual event. For one of the dolkhi parties that my aunt is hosting, I volunteered to bring cupcakes and I am dead set on upping my cupcake-making game.
I don't make cupcakes that often, and most that I make are usually a variation of each other. But after joining Pinterest, my eyes have been opened to the plethora of cupcake ideas! I want to bake up something different, and just plain chocolate or vanilla with coloured buttercream, and have been spending hours drooling researching different cupcakes and frosting recipes.
I've only joined Pinterest recently, and didn't really get the obsession factor until quite recently, when I wasted a few hours pinning and repinning cupcake pictures. They all look so good! In order make a reasonable decision, I'm going to start testing some recipes out to see which one I like best for the dolkhi party. Stay tuned!
In writing news, I haven't been having much luck recently. The plot of my recent novel is alluding me, and I'm getting frustrated by feeling blocked all the time. >_< I have the concept down, and have been imagining all sorts of cool fight scenes and adventures for years now, but don't know how to connect them together yet. I'm hoping to get writing this summer, before I start teacher's college in the Fall and get swept up into assignments and tests and practicums, so here's hoping I get a breakthrough soon!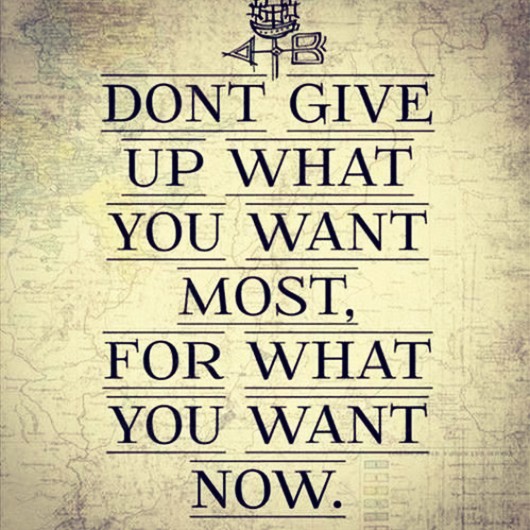 I found this quote on Pinterest this week, and couldn't help but Instagram it since I love it. Sometimes it's so easy to get lost in the here and now, and forget that there's a bigger picture. Patience and perseverance is the way to go!
And that's it folks! I'm off to torture myself run, and so I hoped you enjoyed reading about my (lame) week. Hope you all have a great weekend!
Thanks for reading,
Ikhlas