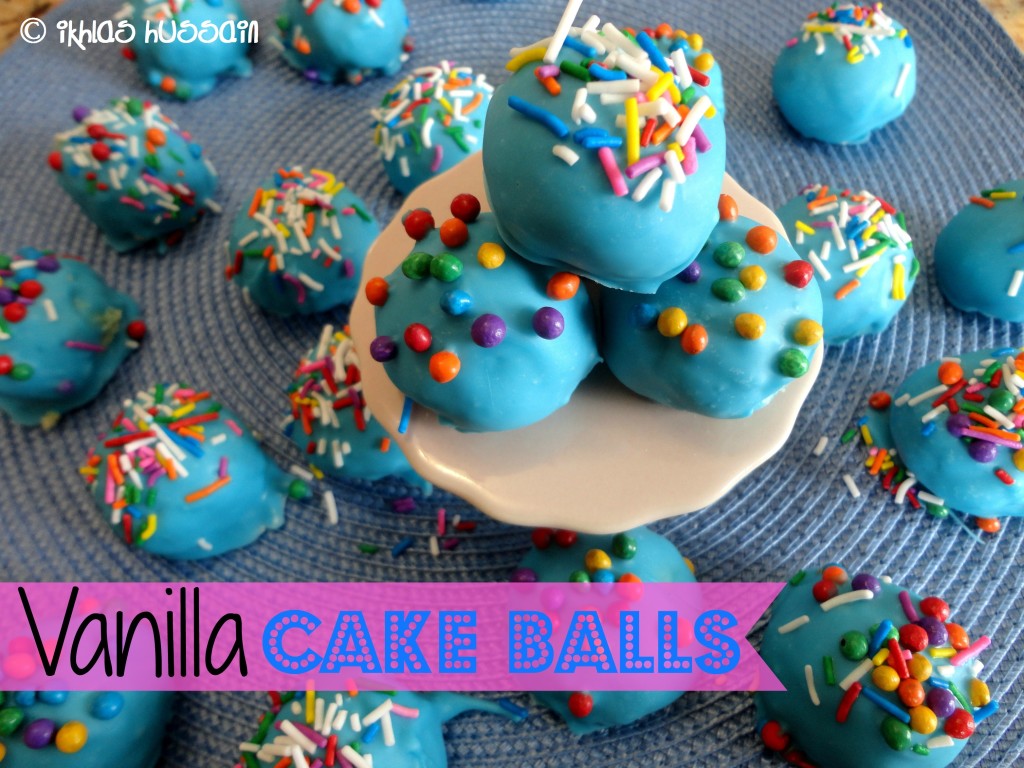 So cake balls, or cake pops, aren't exactly new or revolutionary. They're quite a popular treat, may even be joining cupcakes as the cutest dessert ever, since there are an endless way to decorate them.
Believe it or not, I've only ever had cake pops once before when my best friend made some for me. Covered with a crunchy candy coating, the inside was a sweet, sweet confection. One bite in and I could see what all the fuss was about.
I didn't have any lollipop sticks, so I just took the pop out of the equation and made them into cake balls. Only slightly less cute, these cake balls are still a treat for the taste buds and the eyes!
Topped with crunchy, colourful sprinkles, you can literally decorate these guys however you please. You can experiment with different flavoured cake, frosting, coloured candy melts, sprinkles, shapes, etc. No matter how you decorate them, they'll still taste amazing. 🙂
Check out my adaptation of the famous treat, and let me know what you think!
Ingredients
1 box vanilla or yellow cake mix, plus ingredients on back
3/4 cup vanilla frosting
Coloured candy melts
Sprinkles for decorating
Instructions
Prepare the cake according to directions on the box. When cake is done baking, cut into sections while still warm and crumble with hands until crumbs form. Add frosting and mix well.
With a melon scoop, scoop out the dough and roll into balls and place on a parchment lined baking sheet.Freeze for 30 minutes.
In the meantime, microwave candy melts in 30 second increments. Using two spoons, dip the cake ball into the melted candy, rolling it around until completely submerged. Using the two spoons, roll the ball until the excess candy drips off. Place cake ball on parchment lined baking sheet and sprinkle quickly with sprinkles. Repeat process.
Store cookie balls in an airtight container.
http://ikhlashussain.com/2013/04/recipe-vanilla-cake-balls/
So even though I'm no pro-baker, I did pick up some tricks while making these which I think will help me next time I make them.
First of all, using a mixer to crumble the cake might be slightly easier. Since the cake is warm when it comes out of the oven, it isn't hard to crumble it up, but since it's quite hot, it can be a bit tedious. Using a mixer will make the job easier and will yield a more consistent crumb.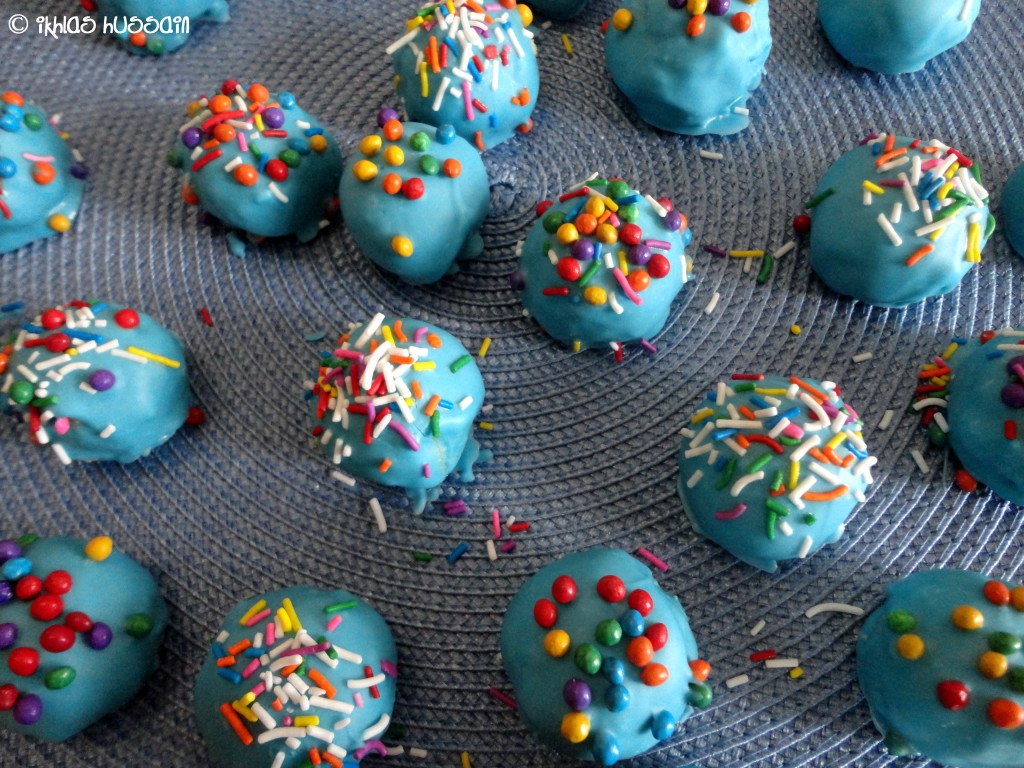 Also, make sure you don't overbake your cake. I did, and then had to get rid of the crusty, overbaked edges, thus resulting in less crumbs and less cake balls. So make sure you don't overbake!
When getting ready to drip your cake balls into the melted candy, split them up into batches and keep the majority of them in the freezer, while you work on dipping a batch. I found that the cake balls started to get soft and started breaking off as they were handled by the spoon, because they were coming to room temperature. Working in batches will prevent this.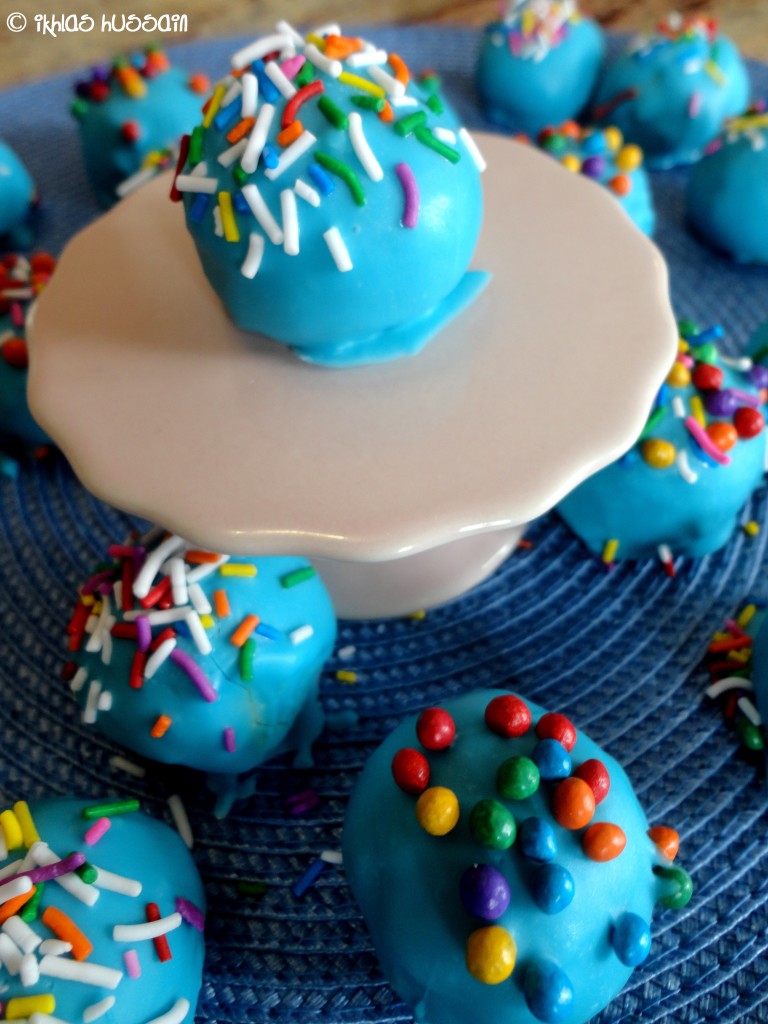 Also, make sure you add your sprinkles and decorations on right away after dipping the cake balls into the candy. It dries fairly fast, so if you want something to stick to it, sprinkle the decorations on right away.
And that's it! I was fairly surprised at how easy they were, since they always seemed kind of daunting. There isn't a lot of actual baking involved, but more work afterwards. Still, they're fun to make, and like I said, there's so many different ways you can make them!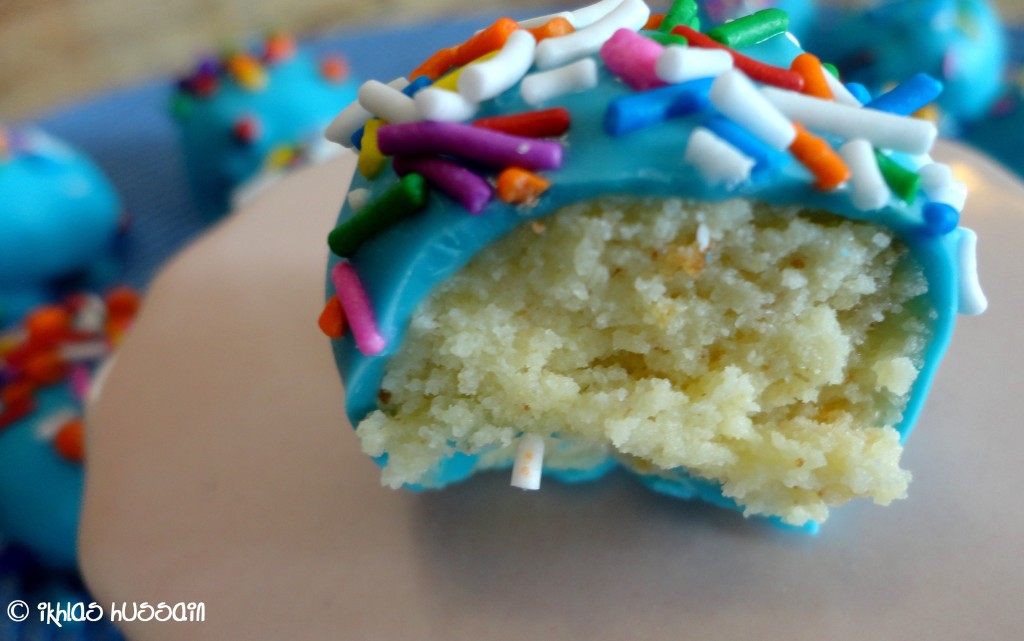 Just beware, they are HIGHLY addictive, as I learned after munching through my fifth one in an hour. 🙂
Thanks for reading,
Ikhlas