So I have a problem. I'm addicted to a TV show. I know, I know, I have a manuscript that needs editing and…dishes that need washing? Lol. Okay, maybe not the second part, but I am addicted to Once Upon A Time!
I managed to cure myself for a WHOLE weekend when my nephew was over and I lost myself, as I always do, in playing with him and just holding him. As I started to watch an episode Monday morning, my right arm aching from carrying a 7 month old munchkin, I thought to myself, "I'll just watch one episode." And you know what happens next…3 episodes later and I was at the breathtaking finale!
As I approached the finale and my mom called me down for dinner, I thought to myself that I'd stop here for the day, 4 episodes was more than enough. But then the writers just had to throw in that game-changer in the last few minutes of the episode and I was a goner.
Never mind that I had to go down and spend time with my family. Never mind that I had to wake up at 4 AM for work the next morning. Never mind that I have a 113,000 word beast of a manuscript that needs editing. All that mattered was Emma and Henry and Prince Charming and Snow White and Rumpilstiltskin and the Evil Queen.
Yup, I need help.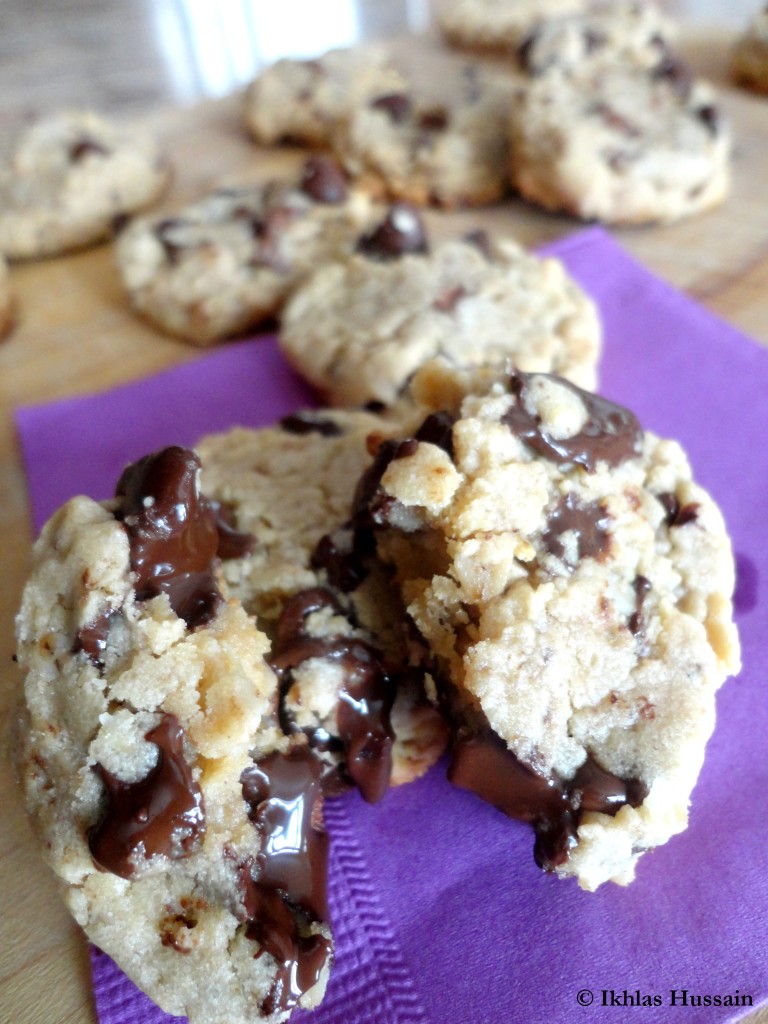 Do you know what else is addictive? These cookies. Seriously, I couldn't stop myself at one. Or two. Or even three!
Using the same peanut butter/oats recipe I used for my Peanut Butter M&M Cookies (as inspired by Sally), I changed things up a bit. First, I bought a package of mini Reese peanut butter cups. You know, to help the peanut butter flavour along. Then, I thought the peanut cups looked lonely, so I chopped up some semi-sweet chocolate chunks and added them to the party dough. Then, just to get crazy, I added some chocolate chips, just to liven things up.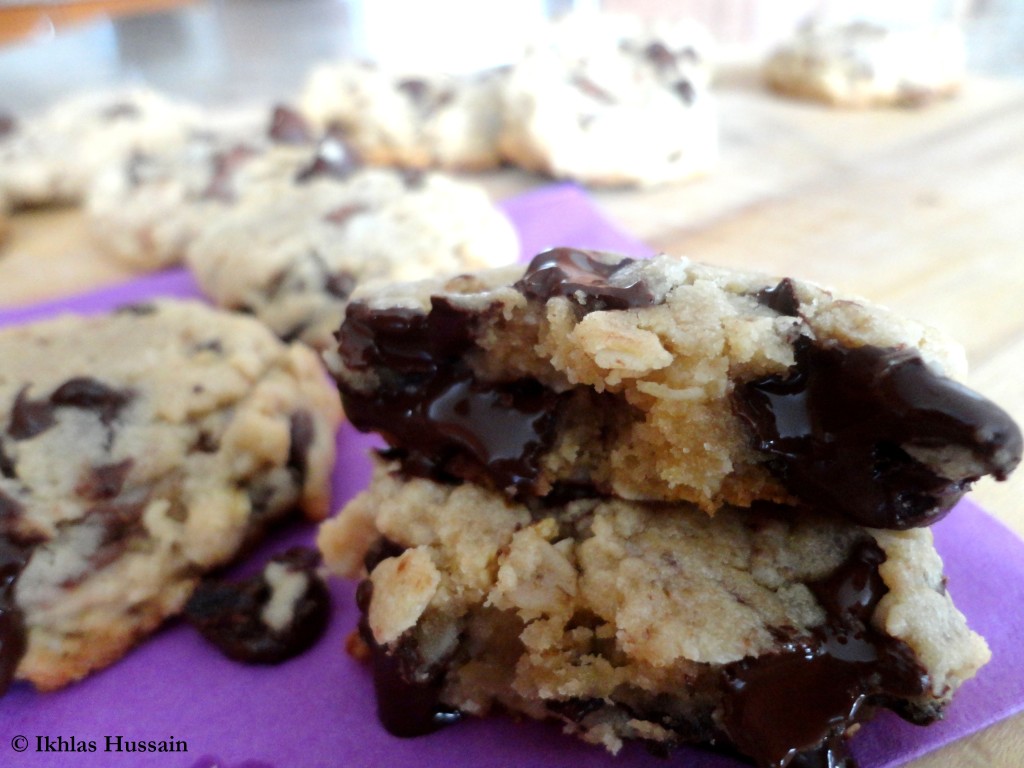 The end result? An amazingly chewy and soft cookie, a cookie that is thick and crinkly on top, a cookie that is chock full of chocolate chunks, cups, and chips. A cookie that'll bring a chocolate party to your mouth!
Recipe: Soft Baked Chocolate Chunk Cookies
Ingredients
1/2 cup butter, softened to room temperature
1/2 cup brown sugar
1/4 cup granulated sugar
3/4 cup creamy peanut butter
1 egg
1 tsp vanilla
1/2 tsp baking soda
1 and 1/4 cup flour
1/2 cup quick oats
3/4 cups chopped mini Reese peanut butter cups
3/4 cups semi-sweet chocolate chunks
1/2 cup semi-sweet chocolate chips
Instructions
Chop up peanut butter cups and refrigerate. In a large bowl, cream butter and sugars. Mix in peanut butter, egg, and vanilla.
Next, add the flour and baking soda and mix well, being careful to not over mix. Add the quick oats, chocolate chips, chocolate chunks, and peanut butter cups.
Scoop out dough onto a baking sheet, and flatten slightly with the back of a spoon. Refrigerate the dough for at least an hour.
Preheat oven to 350 degrees F. Bake cookies for 8 to 10 minutes.
Once out of the oven, press down again with the back of a spoon to get the crinkly top effect. Let cool before enjoying. Store in an airtight container.
http://ikhlashussain.com/2013/03/recipe-soft-baked-chocolate-chunk-cookies/
Neither the oats nor the peanut butter overpower the taste of the cookie, and only work together to create a perfect soft, chewy cookie. I slightly underbaked them, as usual, to maintain their softness. If you want them even chewier then take them out at around 8 minutes; they'll look slightly undone, but they'll continue to cook up on the baking sheet.
The peanut butter cups are coated with milk chocolate, while the chunks and chips are semi-sweet, which creates a scrumptious blend of both milk and semi-sweet chocolate swirls through the cookie. Like I said, a chocolate party! 🙂
These cookies don't take long to make at all and bake up beautiful. You can make them with many different add-ins too, so go ahead and try them out!
Thanks for reading,
Ikhlas