What is it about absence that makes the heart grow fonder?
Take, for example, when I'm fasting. Foods that I haven't thought about in weeks, or had in months, will suddenly start dancing in front of my eyes in the month of Ramadan, and I'll want them right then and there.
Or when I've vowed not to let a sugary morsel cross my lips for the week. This is when every cookie, cupcake, and cake will call my name when I'm grocery shopping, while I studiously try to ignore their siren calls.
Or when I haven't been in school for 2 years now (!!!!!!) and listening to my younger brother complain about of exams and stressful study sessions makes me sigh wistfully and wish I too had exams and tests and assignments to prepare for.
I only made these cookies once, but I've been craving their chewy, M&M studded texture ever since! I made them to give to two friends, one who I was visiting downtown a few weeks ago, and the other whose birthday was coming up.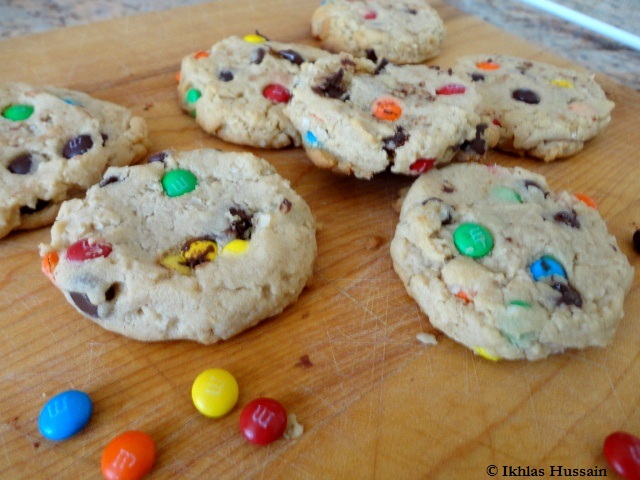 Usually, I don't like trying a new recipe out when I'm giving it to someone or for a party, but I had read such rave reviews on Sally's blog that I knew I had to make it just then and share the results. 🙂
So check it out and let me know how you get on!
Peanut Butter M&M Cookies
Ingredients
1/2 cup butter, softened to room temperature
1/2 cup brown sugar
1/4 cup granulated sugar
3/4 cup creamy peanut butter
1 egg
1 tsp vanilla
1/2 tsp baking soda
1 and 1/4 cup flour
1/2 cup quick oats
3/4 cup M&Ms (I used minis)
1/2 cup semi-sweet chocolate chips
Instructions
Preheat oven to 350 degrees F.
In a large bowl, cream butter and sugars. Mix in peanut butter, egg, and vanilla.
Next, add the flour and baking soda and mix well, being careful to not over mix. Add the quick oats, chocolate chips, and M&Ms next, reserving a few M&Ms.
Scoop out dough onto a baking sheet, and flatten slightly with the back of a spoon. Press the reserved M&Ms on top before baking for 8 to 10 minutes.
Once out of the oven, press down again with the back of a spoon to get the crinkly top effect. Let cool before enjoying. Store in an airtight container.
http://ikhlashussain.com/2013/02/recipe-peanut-butter-mm-cookies/
These are honestly the softest cookies I've ever made! So chewy, with just enough peanut butter, and chewy oats, they were perfection and melted in my mouth. Studded with mini M&Ms and chocolate chips, my brothers and I devoured a few right off the tray with glasses of cold milk on the side.
I was a bit wary of the oats, since I've never used them in cookies before, but they added a nice texture, without transforming into oatmeal cookies. Also feel free to ditch the chocolate chips and go the whole way with M&Ms, or vice versa. But I love the combination of smooth, melted chocolate chips and crunchy M&Ms.
Both my friends loved these cookies, so I'm sure you will too! 🙂
Thanks for reading,
Ikhlas