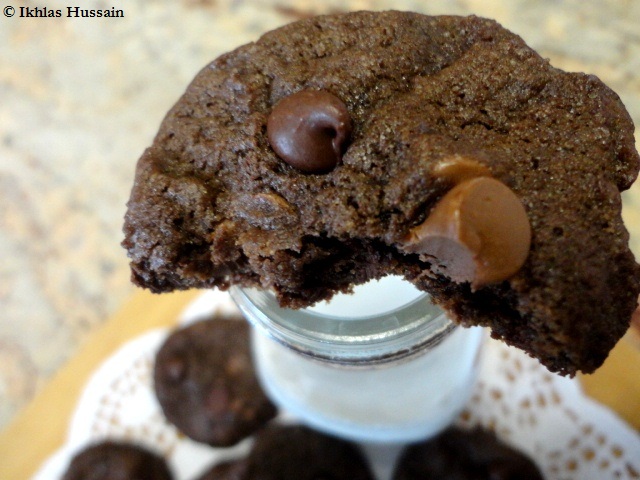 So my parents were out of the country for the past 2 weeks, and my mom only just came back a few days ago.
Now, if I was a regular teenager, I'd probably invite all of my friends for a party (the grand total of which is 3), turn up my Taylor Swift soundtrack super loud, eat ice cream for breakfast, feed my brothers ice cream for breakfast and dinner, and make a mess of the house.
But I'm not a regular teenager, or a teenager at all, actually (please stop reminding me). So I spent the past 2 weeks being 'responsible'. Luckily for my mom, she programmed me into being responsible at the tender age of 5, when I became a big sister aka mini mom, so no wild parties for me, unfortunately. 😛
Instead, I found myself instructing my brothers to do their homework, clean up their rooms, help me out with dinner, go to the store to pick up groceries, and a whole host of other mundane, household chores, which apparently will be extremely useful after I'm married (I'm South Asian, everything ties in that!). But that's a story for another day…
Because I have to get up at 4AM almost every day to go to work, I was pretty shattered by the time I made and served dinner to my brothers. Most nights, I was about to pass out right into my plate. Regular moms (not mini moms), I don't know how you do it! All I do know is that these Chocolate Chocolate Chip Cookies definitely helped.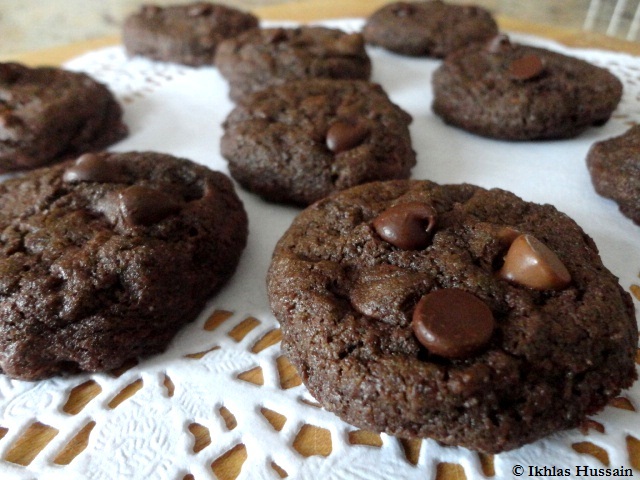 There's nothing better than a classic chocolate chip cookie, except maybe a Chocolate Chocolate Chip Cookie! Super moist and chewy, these  chocolate cookies are studded with both milk and semi-sweet chocolate chips (I thought I'd go a crazy :P), which makes these perfect for chocolaholics like myself. Every mom (even mini moms) deserves a plateful of these, so check them out!
Chocolate Chocolate Chip Cookies
Ingredients
1 cup butter, softened
1 cup brown sugar
3/4 sugar granulated sugar
2 eggs
1 tbsp vanilla
1 3/4 cup flour
1 tsp baking soda
pinch of salt
1/2 cup unsweetened cocoa powder
3/4 cup milk chocolate chips
3/4 cup semi-sweet chocolate chips
Instructions
In a small bowl, mix the dry ingredients (flour, baking soda, and salt) together. Set aside. In another bowl, place the cocoa powder and set aside.
In a large bowl, cream butter and sugars. Add eggs and vanilla, mixing well. Leaving the mixer on, add portions of the flour mixture and the cocoa in turns, mixing well until both flour and cocoa is well incorporated.
Add chocolate chips and mix by hand. Refrigerate for at least an hour.
Preheat oven to 350 degrees F and line baking sheet with parchment paper. Drop tablespoon sized dough onto baking sheet and press down slightly with the back of a spoon.
Bake for 12 to 15 minutes, and do not over bake. Store in airtight container.
http://ikhlashussain.com/2013/02/recipe-chocolate-chocolate-chip-cookies/
I made this recipe almost a year ago, last May, and knew that I wanted to go back to it, especially since I've learned so much since then! By switching the proportions of the granulated sugar with the brown sugar (the original recipe called for 1 cup granulated sugar and 3/4 cup brown sugar), the resulting cookie was SO much softer and chewier!
Because brown sugar tends to result in a softer cookie, I realised that I needed to refrigerate the dough to firm up the butter, which would make for a firmer cookie that wouldn't fall apart after it was baked! Sally explains the science of it here.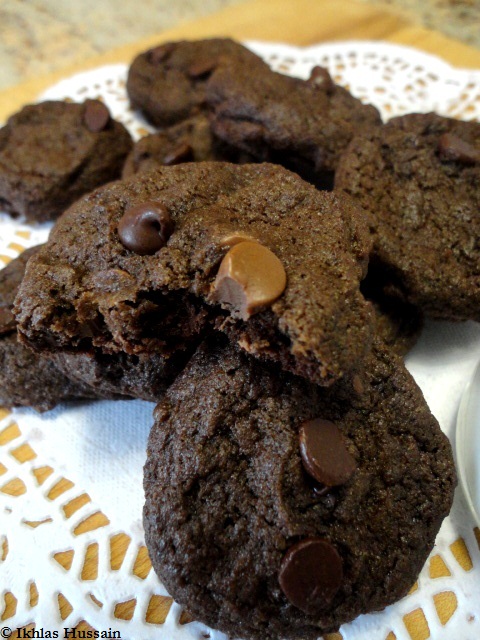 After these two quick changes, the cookies were so much yummier! Soft and puffy, they were beautiful to look at- and taste of course! They were soft on the first day, and just as soft on the second (which is the longest they lasted) and didn't become hard like other cookies. I also loved the combination of both milk and semi-sweet chocolate chips, which provided for a depth of chocolate flavour. Trust me on this one. 🙂
If you're a fan of chocolate, you'll absolutely love these chewy, chocolatey cookies! Make sure you have a tall glass of cold milk on the side! 🙂
After my two hectic weeks of being a mini mom, I'm looking forward to partying it up this weekend. And let's be honest, partying it up actually means reading, doing a Harry Potter movie marathon, and baking even more. Yup, I'm a wild one!
Hope you're all having a good week! 🙂
Thanks for reading,
Ikhlas