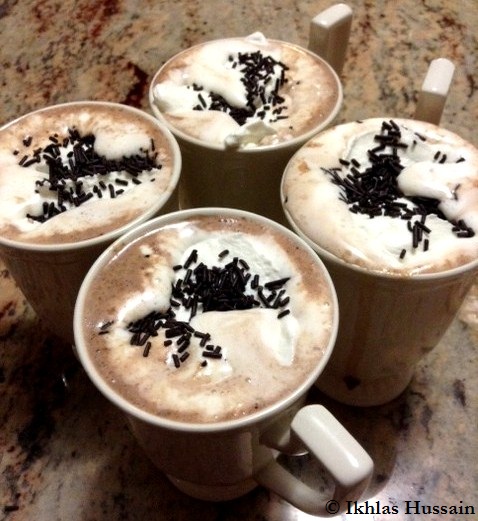 So I actually made this 'recipe' (if you can call it that) awhile ago, but didn't think anyone would be interested. But after looking at the pictures again and remembering the delicious scent it spread all over my kitchen and the deep chocolatey flavour, I decided this Hot Cocoa recipe was one to share!
While I definitely enjoy the Hot Cocoa/Hot Chocolate from Starbucks and Tim Hortons, nothing beats the homemade taste of this one, especially since it's topped with a dollop of cold whipped cream and a handful of chocolate sprinkles. 🙂
Perfect for a cozy weekend afternoon, curled up by the fireplace with a movie on or a book in hand, or even after a long and cold day at work, this Hot Cocoa is the ultimate drink to warm you up. Try it out and let me know how you get on!
Ingredients
1/3 cup unsweetened cocoa powder
1/2 cup sugar
a pinch of salt
1/3 cup boiling water
3 1/2 cups milk, warmed
3/4 tsp vanilla
1/2 cup half and half cream
Whipped cream (optional)
Chocolate sprinkles (optional)
Instructions
In a saucepan, combine the cocoa powder, sugar and salt. Mix well.
Add the boiling water and stir well until it starts to boil. Then, add the warm milk and continue to stir until the milk is heated through.
Remove from heat and add vanilla. Divide the cream between four mugs and then pour the hot cocoa mixture.
Top with a dollop of whipped cream and chocolate sprinkles. Drink while warm.
http://ikhlashussain.com/2013/01/recipe-hot-cocoa/
I haven't tried very many Hot Cocoa recipes, but this one was by far the easiest and the yummiest! It didn't take very long to prepare either and made a creamy, chocolatey cocoa that rivalled cafes.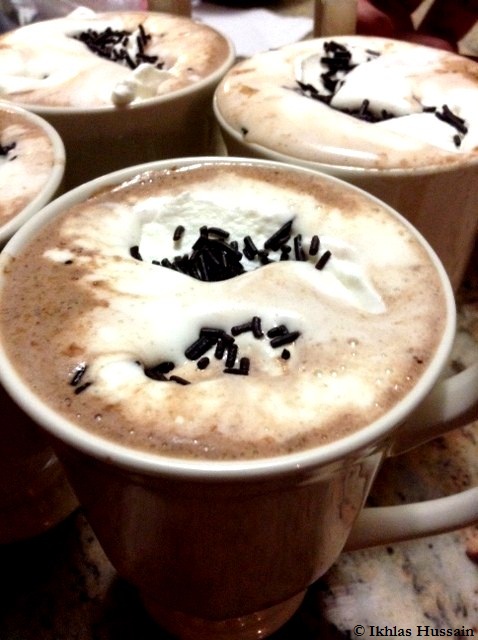 The cold cream at the bottom of the cup helps cool down the steaming cocoa mixture when you add it the mugs, so that it's not too hot to drink. The chocolate sprinkles and whipped cream were a fun touch, since they added a touch of something special.
So do try it out, especially if you need a little warming up on a blustery winter afternoon!
Hope you're all having a good start to the week. 🙂
Ikhlas