So last week was my birthday. Now, like most people, I love my birthday. I love getting presents and eating cake. I mean, who doesn't?
Plus, people (like your family) feel obliged to be nice to you. Ahem, except for mine apparently. My dad isn't really into birthdays and often forgets to wish everyone. My brothers are broke and so I never expect presents from them. Cake is also a rarity in our house, since we're ice cream and cookie people.
Every year, I make a fuss about my birthday. I demand ice cream cake, and not just any ordinary ice cream cake, but only the one from DQ since ITS TRADITION AND TRADITION MUST BE FOLLOWED.
Sometimes I get my cake, but usually not. Sometimes my brothers are super sweet to me, hugging me and getting me unexpected gifts, but usually not. The regular household routine continues, birthday or not.
Given my fear over getting older (what, you've never heard of a mid mid-life crisis?!), I was happy to let this birthday pass without any hoopla. In fact, I was in such a dark mood that I didn't want anyone to even wish me happy birthday since I was sulking and wanted to sulk in peace, thanksverymuch.
But on the one birthday that I would have happily enjoyed washing dishes and eating leftovers, my family decided to make a hoopla. Mind you, it wasn't a big hoopla, but it still made me feel bad for being so mean to everyone.
In the days leading up to my birthday, I consumed about ten of these cookies during my emo phase. My pants don't thank me.
In the end, I got my cake and got to eat these cookies too. And that made it a very happy birthday. 🙂
Chocolate Covered Pretzel Cookies with Caramel
Adapted from Sally's recipe from Sally's Baking Addiction and Ashton's recipe from Something Swanky.
Ingredients:
1 cup butter, room temperature
1 cup brown sugar
1/2 cup white sugar
1 egg plus 1 egg yolk
1 teaspoon vanilla
2 cups plus 2 tablespoons flour
1/2 teaspoon baking soda
A whole bunch of chocolate covered pretzels, chopped
1/2 cup chocolate chips
Caramels melted with a bit of water
Directions:
Preheat oven to 350 degrees F.
Mix flour and baking soda and set aside.
Start  by creaming your butter and sugars, and then add in the whole egg, egg yolk, and vanilla. Mix well.
Slowly add in the flour mixture, stirring well in between each addition.
Fold in the pretzels and chocolate chips, adding as many as you want. More is better!
Chill dough for an hour or more. This is the magic ingredient! It somehow made the dough AMAZING.
Scoop out dough and place on a cookie sheet.
Bake for 7 to 8 minutes, until they are slightly golden. They'll look a bit raw, but leave them on the cookie sheet while you prepare the caramel.
Unwrap a few caramel and add a few drops of water before microwaving for about 20 seconds. Do this step right when you'll be adding the caramel to the cookies, or else it'll harden and be impossible to work with.
Drizzle caramel on top of cookies and enjoy!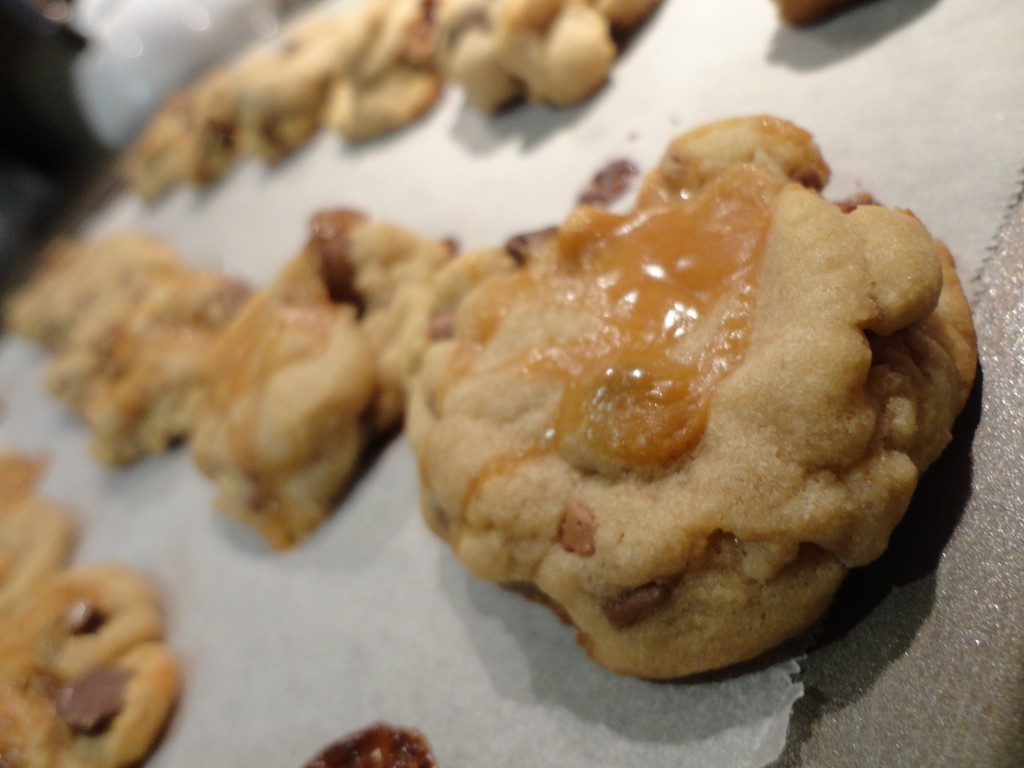 So remember how I told you a few weeks ago that I'd found the best, chewiest chocolate chip cookie recipe? Well, I was clearly lying, because I hadn't discovered these! These are honestly the softest, chewiest, and yummiest cookies I've ever made. The dough literally melted in my mouth! I've also been on a salty/sweet obsession, and the chocolate covered pretzels barely made it into the cookies because I almost ate the whole bag! The drizzled caramel also adds a nice, rich taste. Be warned that these are not for the weak! A major sweet tooth is necessary here, especially if you choose to add the caramel.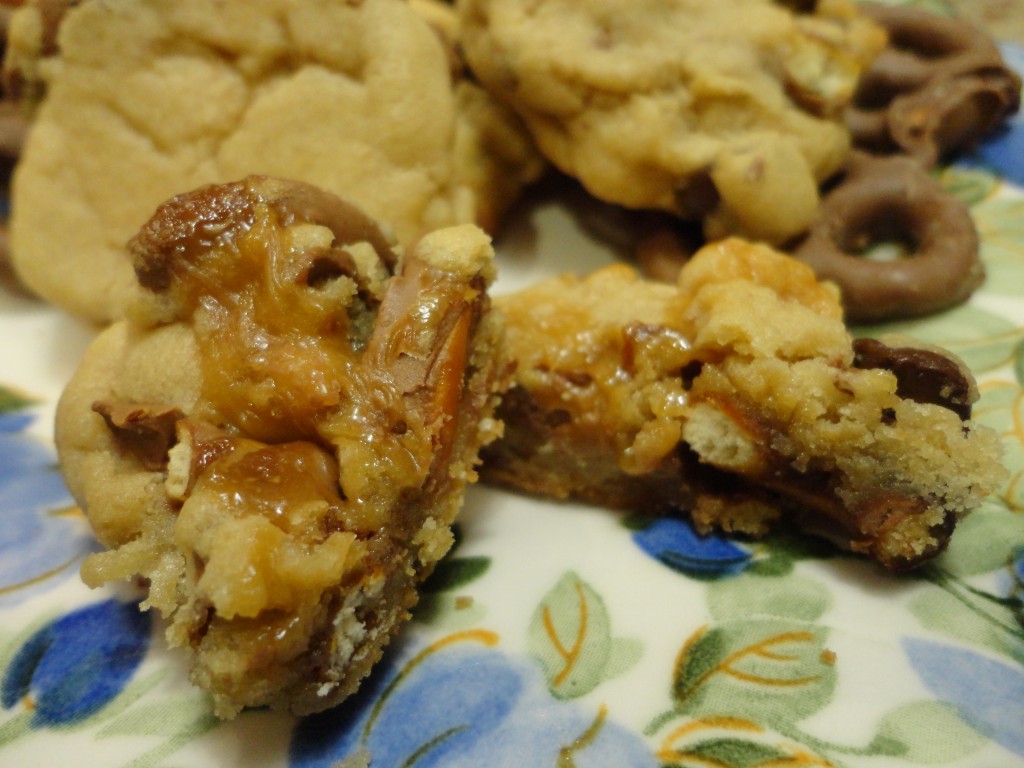 Even if you're not a fan of chocolate covered pretzels or caramel, still try these out as regular chocolate chip cookies. You won't be sorry you did!