Hi guys!
So in honour of this blog's anniversary, I've decided to hold a giveaway!
Technically, I think my blog's anniversary was sometime in June, but because of vacation mayhem, I kind of forgot about it and just remembered it recently.
I can't believe it's been a year! Check out my first few posts here, here, and here.
I want to thank you all, whoever and wherever you are, for taking the time to check out my posts and commenting on all the silly things I talk about. I'm trying to get back to a regular blogging schedule, and I appreciate all your support.
I know that this blog isn't a conventional one, in that it focuses on one thing, and because of that, I'm probably failing at some blog etiquette, but it's okay, since I love having a wide variety of things I can talk and ramble about.
So thank you for your ongoing support, and now, on to the giveaway!
So of course everyone wants to first know what the prizes are, and they are books, my friends. Why? Because you can never have enough books, and I seem to have too many…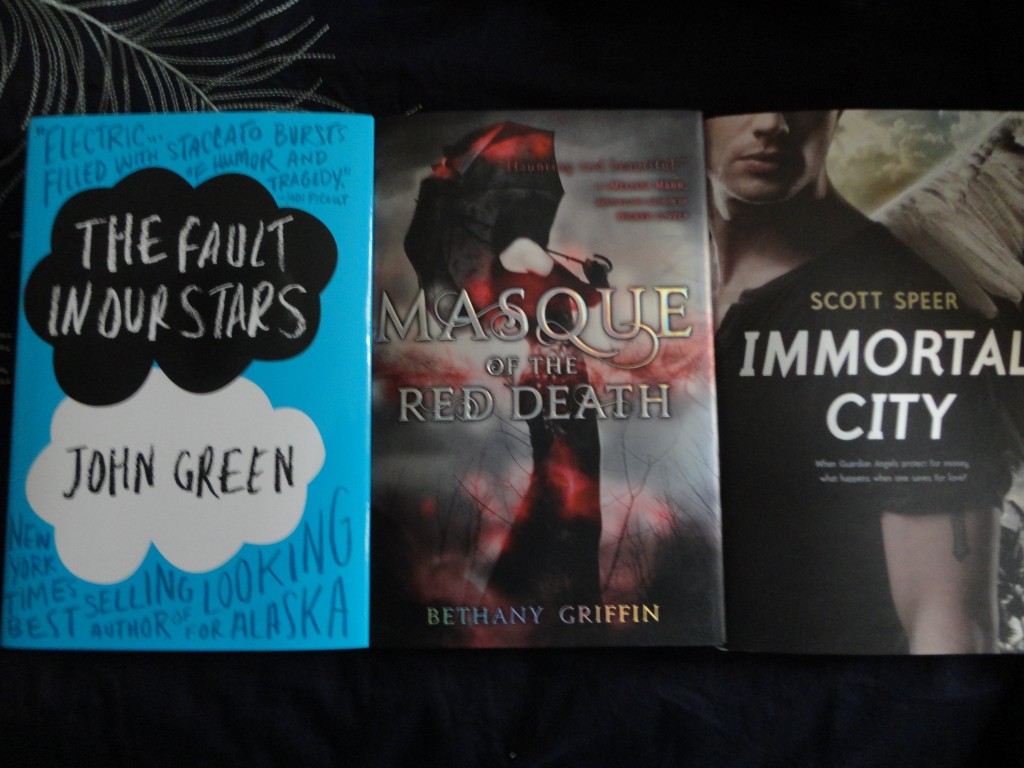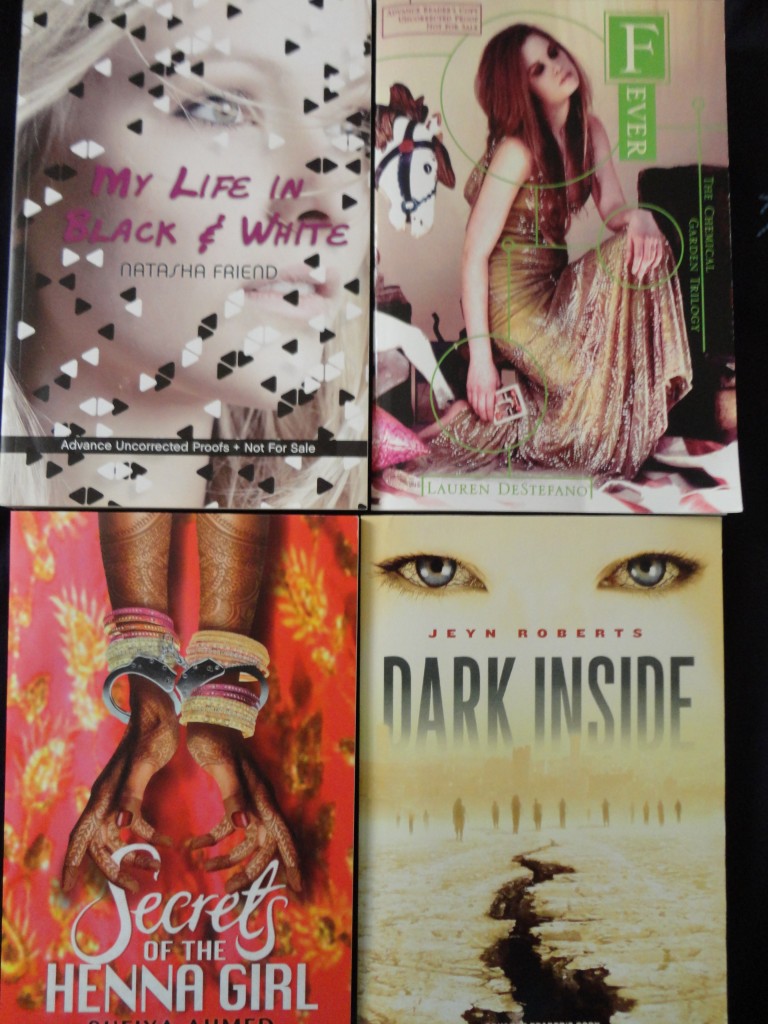 Hardcover books: The Fault in Our Stars, Masque of the Red Death, and Immortal City.
The ARCs (advance reader copies): My Life in Black and White, Fever, Secrets of the Henna Girl, Dark Inside.
This giveaway is international, as long as the Book Depository delivers to your country of residence.
First Place: If you're the first winner I select, and you are a CANADIAN RESIDENT, you get to pick two books from above, a hardcover and an ARC. If you are not a Canadian resident, you will get $20 worth any book from the Book Depository. You will also be winning a handmade bookmark and card from me. 🙂
Second Place: If I select you second, and you are a CANADIAN RESIDENT, you get to pick any one book from above, either hardcover or an ARC. Again, if you're not a Canadian resident, you will get $15 worth any book from the Book Depository. You too will win a handmade bookmark and card.
Third Place: If you are the third person I select, you will win a handmade bookmark and card, regardless of where you live.
And that's it, folks!
So here's how you enter:
If you've never used Rafflecopter before, you just need to create a free account, or you can even log in via Facebook. It's very easy and quick!
Edit: There are several ways to enter, but for each entry, you need to actually do the thing it's asking you to, in order to get the entry.
So, for example, if you want to enter the giveaway by tweeting about it, you need to provide the tweet's URL. It's not enough to just click through. If you choose to follow the blog, you need to actually click the button called 'Follow' on the bottom right of the screen (it hovers on the screen as you scroll) and fill out your email address in order to actually become a follower. If you click 'leave a comment', you need to actually comment on this post and answer the question listed. I will be checking! Hope this clarifies things 🙂
The giveaway will close a week from today, so on July 27th, 2012. Winners will be announced on the blog on July 28th, 2012.
And that's it! Good luck to everyone 🙂
Ikhlas
P.S- Also, to all my Muslim brothers and sisters out there, Ramadan Kareem! May this month be a blessed one for you all 🙂