So earlier today, the news dropped that JK Rowling had not only revealed the title of her latest adult novel, but also a short synopsis and the release date.
As you can imagine, the whole internet was in a tizzy, and the news was trending on Twitter within seconds of it being released (what else would you expect?).
So the title of the new novel is The Casual Vacancy and it's set to be released this year on Thursday September 27th.
Here's the description, as on Little, Brown:
When Barry Fairweather dies unexpectedly in his early forties, the little town of Pagford is left in shock.
Pagford is, seemingly, an English idyll, with a cobbled market square and an ancient abbey, but what lies behind the pretty façade is a town at war.
Rich at war with poor, teenagers at war with their parents, wives at war with their husbands, teachers at war with their pupils…Pagford is not what it first seems.
And the empty seat left by Barry on the parish council soon becomes the catalyst for the biggest war the town has yet seen. Who will triumph in an election fraught with passion, duplicity and unexpected revelations?
Blackly comic, thought-provoking and constantly surprising, The Casual Vacancy is J.K. Rowling's first novel for adults.
My thoughts: To be honest, when I first read the description, my mouth wasn't exactly salivating with excitement. If I had stumbled on this description, and it weren't by Jo, I doubt I'd pick it up.
But given that it is by her, how can I resist?
Plus, it's a common rule to never judge a book by its cover, or lack of one in this case. Despite the fact that the synopsis doesn't excite me, I'll probably be out there on release day, with others just like me, buying the book. Although the $39.99 CAD retail price is a bit high!
I don't buy a lot of adult books (yeah, not obvious at all, you snicker) but even I know that that is not the average retail price for an adult book. But the publishers probably know we Pottermaniacs will probably spend whatever amount it is to get our hands on Jo's latest work. Sigh.
I'm also surprised at the release date. September is not far away at all, especially in book time. I was expecting it to be a bit like HP, a process in which we're hinted that there's a new book, a few more months go by, we're given a title, a few more months go by, we're given a synopsis, a few more months go by, we're given the release date, and then many more months go by until we can buy it.
In other, related, news, Jo has also revamped her official website, in that its done up like a timeline of events, kind of like the new Facebook timeline (hmm, suspicious…).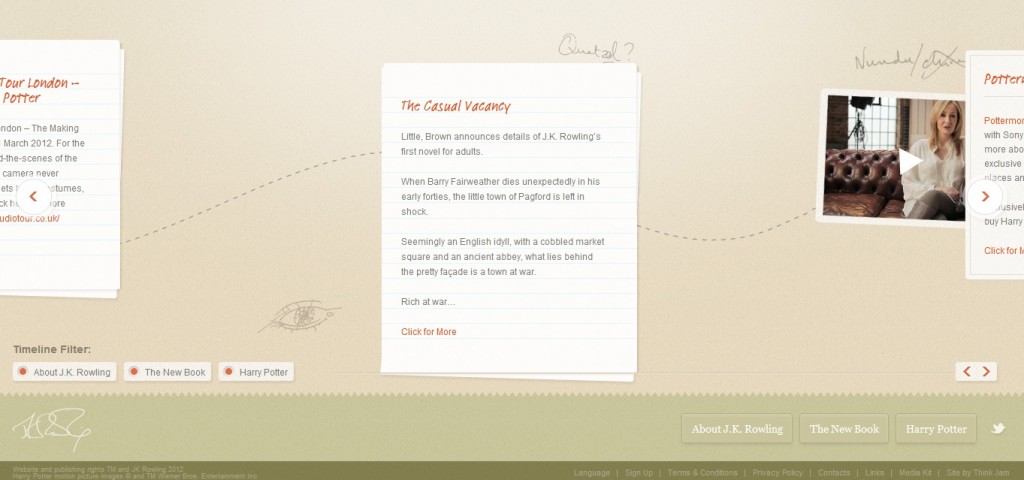 I'm all for change and revamping things (sometimes), but I'm really going to miss Jo's virtual desk. I used to spend hours on there, fiddling with the erasers and quills, trying to dig for new clues on Harry.
Anyway, I'm off to go save up for this exorbitantly priced book!
Ikhlas