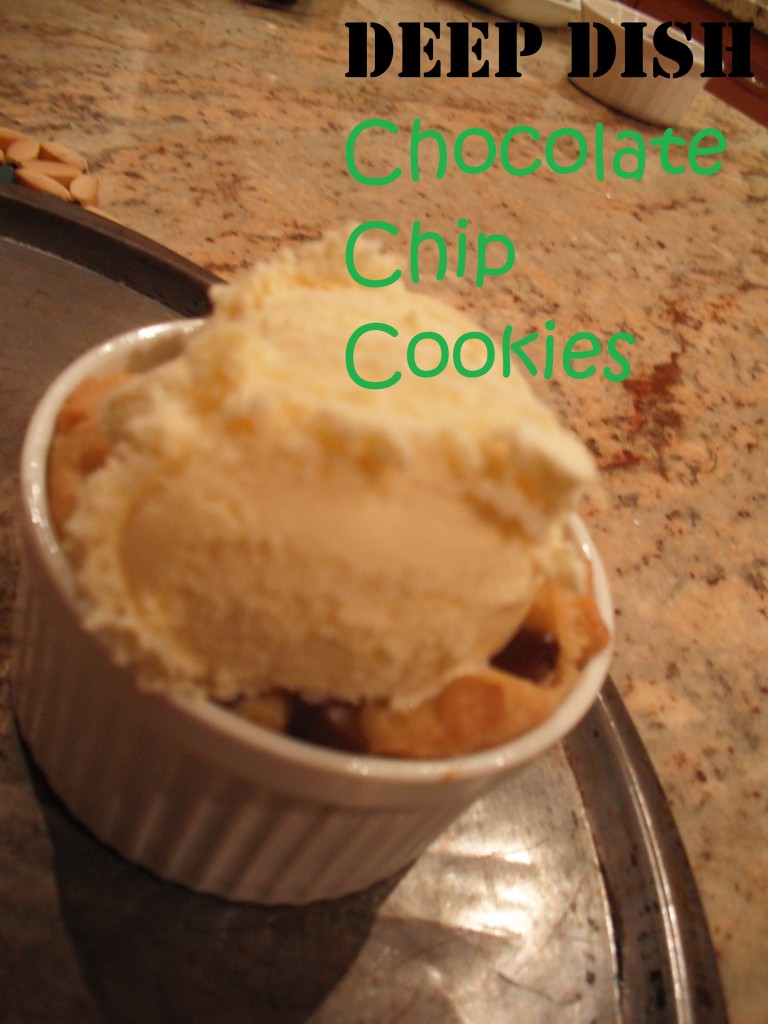 So Friday, as is my usual custom, I got out my baking hat and got baking. I intended to make two recipes for this week to share with you all, but unfortunately, one recipe went so badly that I couldn't post it. Think burnt when you're thinking of bad.
It wasn't anyobody's fault, since I was using a recipe from a blogger, and everyone tends to have different grades in their oven, but I was so upset when they came out all burnt.
Instead of sitting behind the kitchen island and crying over my ruined cookies, I instead turned the volume up on The Devil Wears Prada, which I was watching for the 4756745 time in a row, kept saying the lines out loud, which my brother finds very annoying, and made these deep dish chocolate chip cookies instead, to cheer myself up.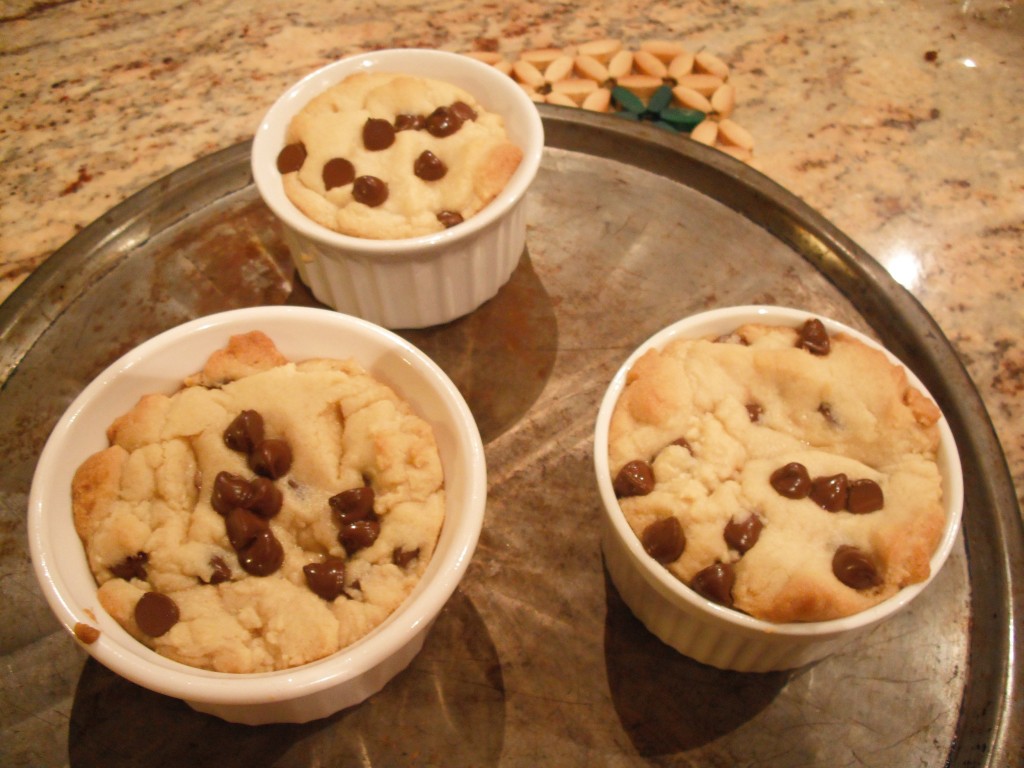 And before you even think it, yes, my picture-taking skills suck. Before, I had been using my brother's much cooler, better-able-to-focus Sony camera, but he kinda found out and told me that I used his camera more than he did. So I had to stop 🙁
By the way, these are adapted from this recipe. She may have better pictures…
But anyway, no matter how sucky my picture-taking skills are, these are GOOD. And I mean, sinfully good. If you use big ramekins like me, you might feel better about yourself after eating these if you share. Unless you're one of my brothers and devour them within 5 minutes of me taking them out of the oven 🙂
Enough rambling! Here's what you'll need:
4 cups flour
1 teaspoon baking powder
1 teaspoon baking soda
1 1/2 cups softened butter
3/4 cup granulated sugar
3/4 cup packed brown sugar
2 eggs
1 tablespoon vanilla extract
1 cup semi-sweet chocolate chips
Preheat oven to 375 F.
First, you're going to combine the flour, the baking powder and the baking soda. Set it aside.
Then you're going to cream your butter and your sugars. Note: the original recipe calls for a cup each of regular sugar and brown sugar. I actually followed the original, and found the cookies a little too sweet (I didn't know there could be such a thing!), so if you don't want to go into a sugar coma, cut down the sugars to 3/4 cup each.
Add in your eggs and vanilla and beat them in.
Slowly add your flour mixture, mixing it in well before you add more.
Toss in your chocolate chips last, leaving a little bit to sprinkle on top.
Scoop your dough into pre-greased ramekins and bake for 10 to 12 minutes or until golden brown on top.
Let them cool (a bit) to maintain the ooey-gooey factor before you stuff yourself silly. Vanilla ice cream makes this even better, if possible.
And there you have it! These are so good right out of the oven, with a scoop of cold ice cream on top. The insides will be mushy and melt-in-your-mouth, while the cold ice cream will swirl together the melted chocolate chips for a party in your mouth.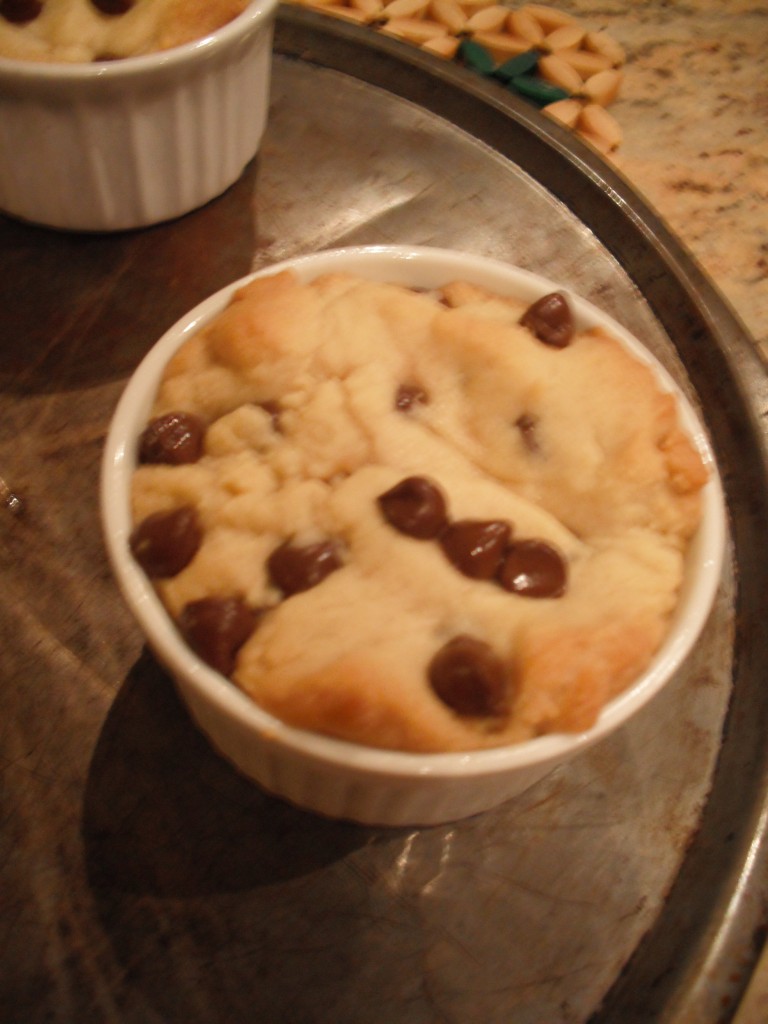 I ended up making three deep-dish cookies, because I only had three ramekins, but if you have more, go ahead and make them all! I made regular old cookies with the rest, which were also very yummy.
If you don't want to make it all at once, you can also freeze the dough and then thaw again before baking them.
So there you have it! I'm excited to try all my cookie recipes (except maybe sugar cookies) in a deep-dish format to see if they're all as good as this one.
I hope you try this out, and do let me know how you get on 🙂
Ikhlas
P.S- In order to prove to you that I don't just eat cookies and cupcakes and brownies, I'll be posting a pasta recipe on Thursday! That is, if everything goes to plan. Which it usually doesn't.