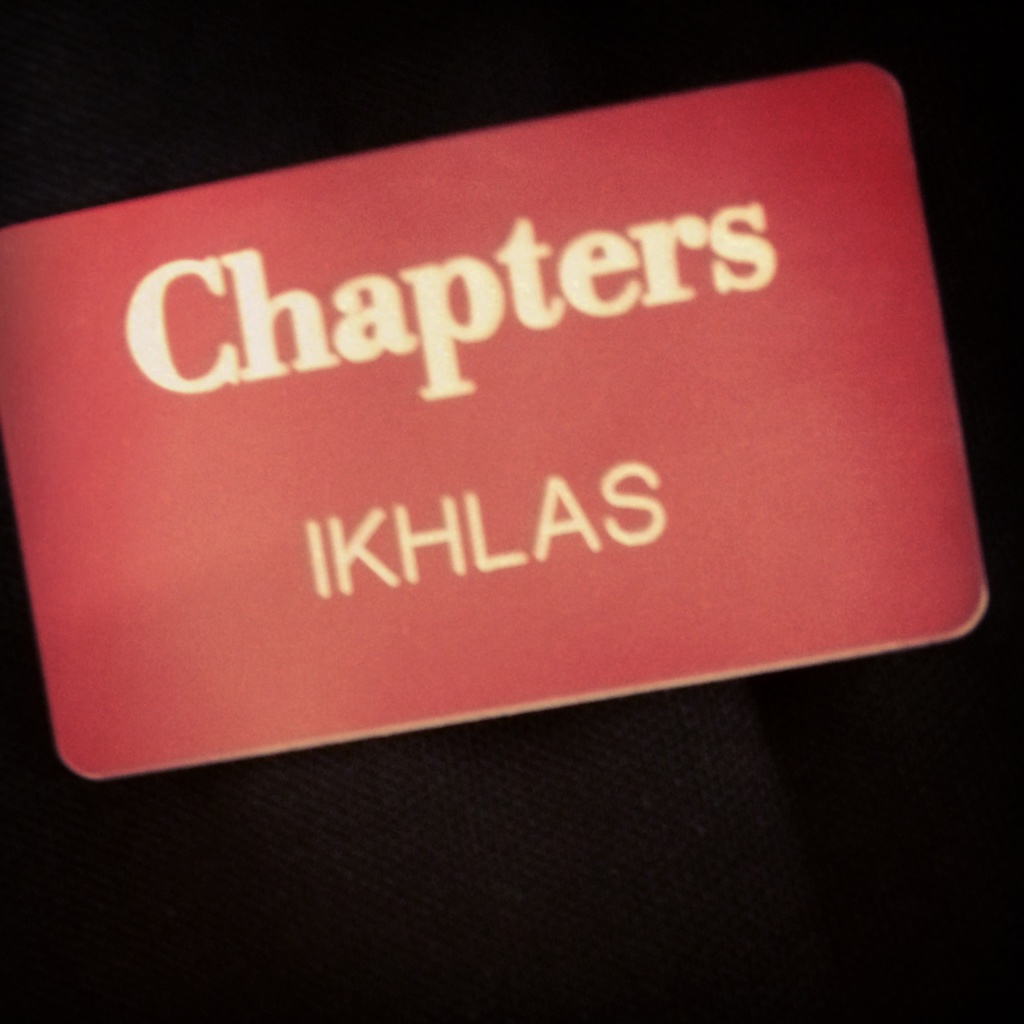 So yesterday was my last day at work, and what I like to think of as an end to an era.
Can an era be only two years long? Apparently it can, because as I hugged one of my managers goodbye at the end of my closing shift last night, that's exactly what it felt like was ending as I walked towards my car.
Like many bookloving Canadians, I grew up dreaming of one day working at Chapters. As the only large bookstore chain in Canada, it was my favourite place as a kid. I still remember spending all of my Eid money on books every year and then making my list for the next year. I still remember the excitement I felt when my mom drove me to the store and let me browse the shelves.
Two years ago when I first applied to work at Chapters, I applied for any and every job that was available. The one that I ended up getting was a stocking job and started at 5 AM. I still remember the sense of excitement that filled me, regardless of the early start, when I found out I got the job.
While the 5 AM shifts weren't exactly ideal, I was still filled with wonder and awe at the idea of working where I'd always dreamed of as a kid. Naturally, my wonder quickly disappeared and was soon replaced by being jaded, as the love of books became secondary to so many other things.
During my year at teacher's college when I was just always stressed, work ceased to be a place of joy for me and just another place of stress. I no longer worked 5 AMs but did the same job on the weekends, because I was in downtown Toronto everyday. I was constantly tired and being around books didn't give me the joy it always did.
Flash forward to the end of teacher's college. I decided to switch from tasking (the stocking job) to a sales job. It looked like a lot more fun because I would actually be able to share my love of books and stories with other people, instead of just stocking the shelves.
Work became a place of escape at this point as I struggled to find my next steps after finishing a gruelling year of teacher's college. I rediscovered my love for children's books and bought every kid I knew my favourite books.
Over the past few months, I ceased to find joy in work again since my personal life became quite busy. As thoughts of my wedding consumed my mind and wedding preparations took over my life, I stopped reading and buying books obsessively.
After I gave my two weeks notice, I began counting down my days to my last day because I just had so much to do and couldn't wait to be done. But last night, as I walked through the empty store for the last time at 10:30 pm, I wished that I had enjoyed it a little more before leaving.
As I walked through the Teen section, my favourite section, straightening up piles of books and shelves, I was struck by the fact that I had been so lucky.
As a kid, I had always wanted to work at Chapters. And my dream came true. Alhamdulilah.
We are often so obsessed with the dreams that don't come true that sometimes we don't appreciate the dreams that do (even the small ones).
Despite how hectic my personal life was in the past two years, despite how stressed out I was, I now realise that I was living my dream. And for that I'm grateful.
Even though I was counting down to my last day, I now realise that I'm definitely going to miss being around books and book-loving people all day. There are friends I made there that I normally wouldn't have, just because we bonded over our mutual love of stories and books. There are moments that happened there that I will never forget, like meeting author Morgan Rhodes. And I definitely can't forget about missing the wonderful discount I got!
It was a wonderful opportunity. Now onto the next adventure!
Thanks for reading,
Ikhlas