I don't usually buy a lot of books, but sometimes I get into a mood and go on a book-buying spree! Luckily I received a gift card from Chapters early this month which was perfect since I was just in the mood to buy some books…
Let's start at the bottom, shall we?
RED RISING
So my first grab when I received my gift card was the epic Red Rising. I had borrowed a copy from the library and knew I wanted a copy of it on my shelf. To read more about why I loved this futuristic story set on Mars, read my full review here.
In short, if you liked The Hunger Games, this is the book for you. If you liked Harry Potter, this is the book for you. If you like action-packed stories with complex, real characters who astound you with their cunning and wit, then this is the book for you.
THE KINGDOM OF LITTLE WOUNDS
Sometimes I discover books not through Goodreads, but the old-fashioned way: at the bookstore. And since my job is to shelve books at Chapters, sometimes I stumble upon the most wonderful titles during work.
What first attracted me to The Kingdom of Little Wounds was its gorgeous cover and red edged pages. This YA fantasy is set in the Scandinavian city of Skyggehavn and sounds like a re-imagining of Sleeping Beauty, but a lot darker and more twisted. It doesn't sound like the typical YA novel and that's what drew me to it.
CINDER AND CRESS
Cinder is another book that I've read and loved from the library, but wanted to have on my shelf. Cress is the 3rd book in the Lunar Chronicle series, and Scarlet was the second. I already own an advance copy of Scarlet, and so wanted to complete my collection by buying the first and the third, which was only recently released!
Each book features a different heroine from fairytale lore; the first was about Cinderella (and Sailor Moon lol), the second one was about Little Red Riding Hood, and the third is about Rapunzel. I absolutely loved Cinder and Meyer's ingenuous idea of mixing fairytales with the Sailor Moon story. What you  get is a clever story of wicked stepsisters and cyborgs. Check out my full review of the first one here.
THE LOST GIRL
I heard about this book a long time ago, but it fell off my radar as I added more books to my TBR shelf. But I recently rediscovered it when I saw it on a bargain table at Chapters. I reread the cover copy and I was sold!
The Lost Girl is set in India (which I love!) and is set in a world where each person has an 'other'; if something happens to you, there is someone there to replace you. When Eva's Other, a girl named Amarra dies half a world away in India, she must abandon everything she holds dear to go and replace Amarra and convince her friends and family that she is Amarra. The Lost Girl is another story that intrigued me from its uniqueness and the fact that it sounded so different from other books on the market today.
THE LIES OF LOCKE LAMORA
The other adult title in this pile is The Lies of Locke Lamora. I first heard of this title on my friend Natalie's blog Browsing Bookshelves. She absolutely loved it, and I found myself intrigued by the story as well, especially when I saw it compared to a Robin Hood-esque type of character. Except instead of giving his spoils to the poor, he keeps it all himself! It's received a lot of great reviews both online and at work, and so I'm excited to dive in.
HALF BAD
The last book on this list is a title I bought just yesterday after I had already finished spending my gift card, but just had to have when I saw it. I've been hearing a lot about this book lately and when I reread the cover copy, I was halfway to the checout ready to buy it!
Half Bad tells a tale of witchcraft as witches live alongside humans. Some witches are good, and some are bad. Nathan's dad is the most evil of them all, and Nathan has to decide where he stands as he approaches his 16th birthday. It's been gaining a lot of hype and I'm so excited to get to it (eventually)! Lol.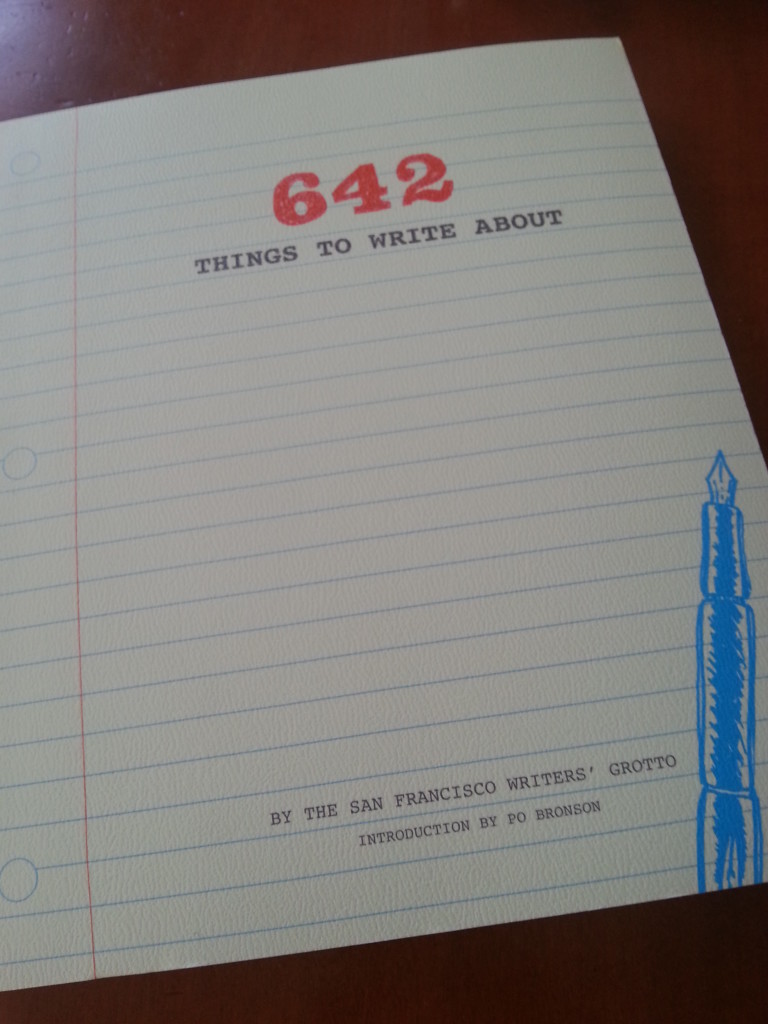 The last thing I bought is this notebook. It doesn't really qualify in the book-haul, but it was one of my book-ish purchases this month so I decided to include it.
I've been eyeing this notebook was a LONG time, and when it finally when on sale, I grabbed a copy. 642 Things to Write About is filled with weird and wonderful writing prompts. Some examples include "Your most transcendent ice cream experience, "What your desk thinks about at night," "Things you should throw away but can't." And lots of others!
I haven't been writing at all over the past year (other than this blog, and that's been sporadic too), and I thought this notebook would be a wonderful way to jot down some thoughts and ideas in a fun way. Hopefully it stirs up my creative juices which have probably gone to sleep from all the studying!
Anyways, that's my haul for this month! I hope I can hold off on buying more books for awhile because I seriously need to get started on these! Have you read any of these? What should I read first?
Thanks for reading,
Ikhlas