Hi there.
So I know it's been awhile since I've blogged. And I have lots to share with you all (ahem, pending recipes), and I'm hoping to get back into the groove of blogging this week.
Some of you might remember me mentioning that I was planning my best friend's bridal shower, and it happened this weekend! It was a week after the first practical component of my teacher education program finished and so I was crazy busy all throughout the past month planning this party.
It was a tea party theme and the colour scheme was supposed to be pastel pink and turquoise except I couldn't seem to find anything that exact shade of turquoise that I wanted. So the decorations ended up being baby pink and white, while everything else stayed in the pastel family.
I made these tissue paper pom poms for the very first time after seeing them all over Pinterest for months. Here's one of my favourite tutorials in case you're interested. They are super easy to make and look SO pretty and girly when finished. I hung some them in the entrance, and then the smaller ones I used to create a backdrop in the dining room behind the table.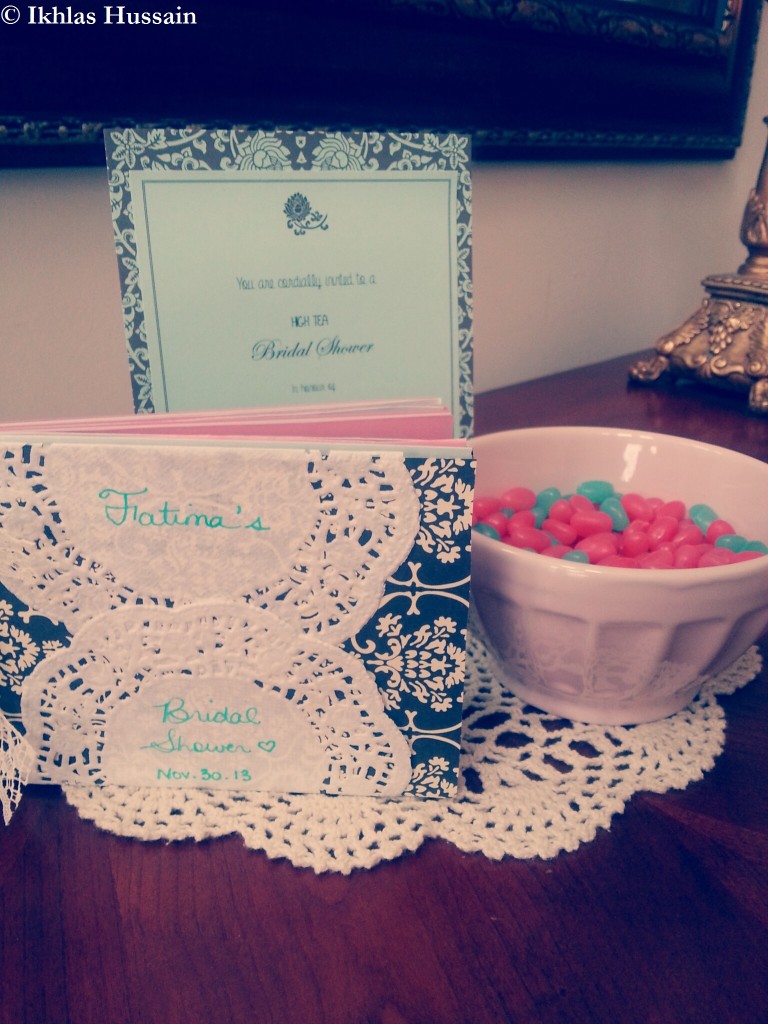 I wanted a really girl feel for the party, so in the entrance I put a bowl of coloured jelly beans (the only thing that matched my original colour scheme!) in a pink bowl, the original invitation, and then the guest book that I had made. I also added a few pens so that people could write in the guest book in the foyer, but it just ended up in the living room where everyone was sitting, where people could sit and take their time writing messages.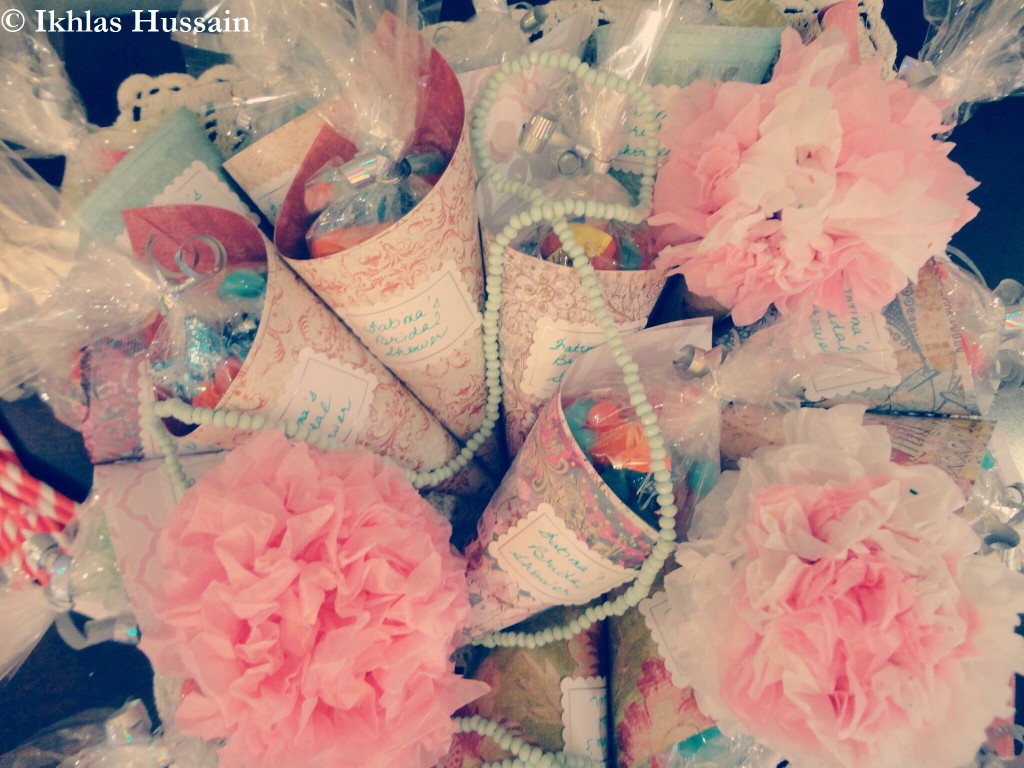 In the dining room, I piled the favours nice and high and draped a pearl necklace around them, as well as some small pom poms for decoration. The favours are also handmade, and I found the tutorial on Pinterest here. I have lots of pretty scrapbook paper (one of my weaknesses) and so used it to make paper cones and then used cellophane to wrap candy and put inside. They looked so cute, especially since I tried to pick vintage flower prints to go with the theme.
In addition to handing pom poms in the dining room, I also hung streamers over the curtains which added a lovely effect.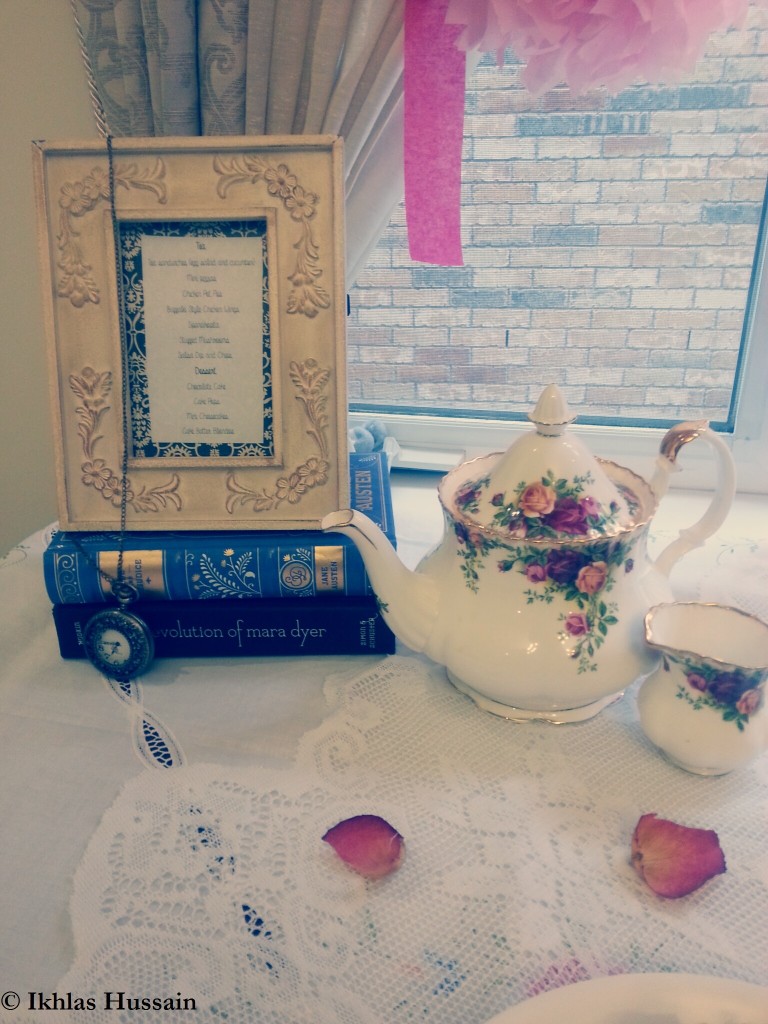 On the table, my mom and I set out one of her old table cloths and I added some details to liven it up. On one side, I stacked some books (one of which was Pride and Prejudice) , on top of which I put the menu in a vintage looking frame. I then strung the chain of my mini clock necklace on it, and beside that I put my mother's teapot with the matching milk jar.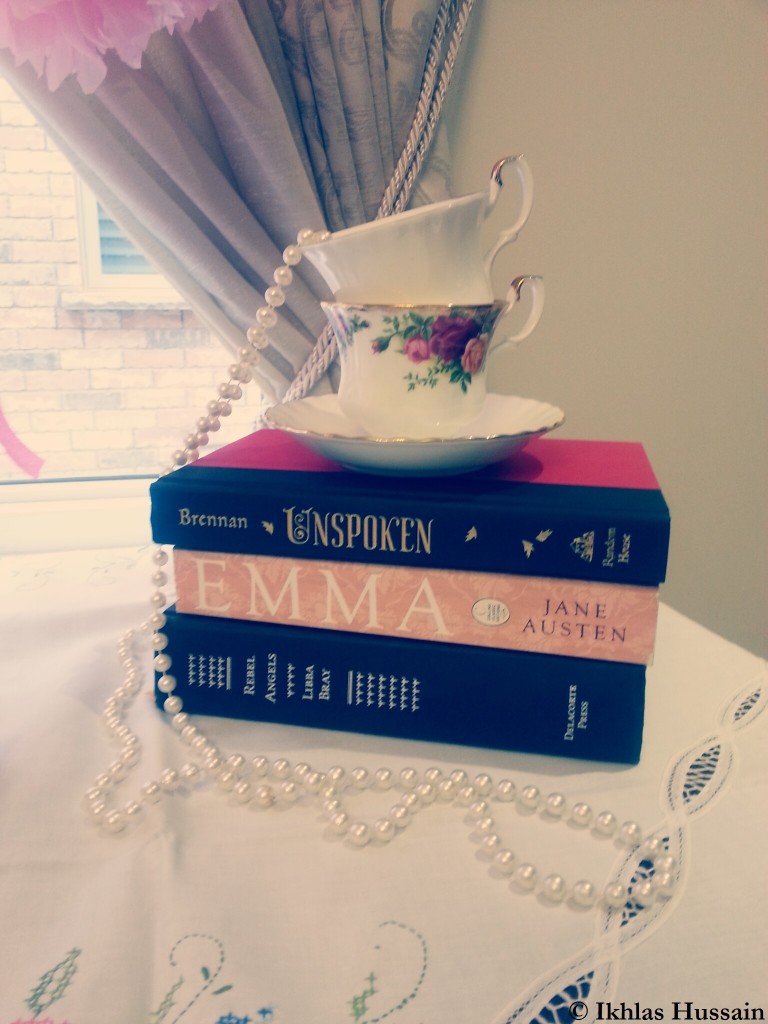 On the other side of the table, I stacked some more books and then placed some mismatched teacups on top of it, with a string of pearls lying beside it.
I also threw some dried rose petals on the tablecloth and then added some flower clips on the table for effect.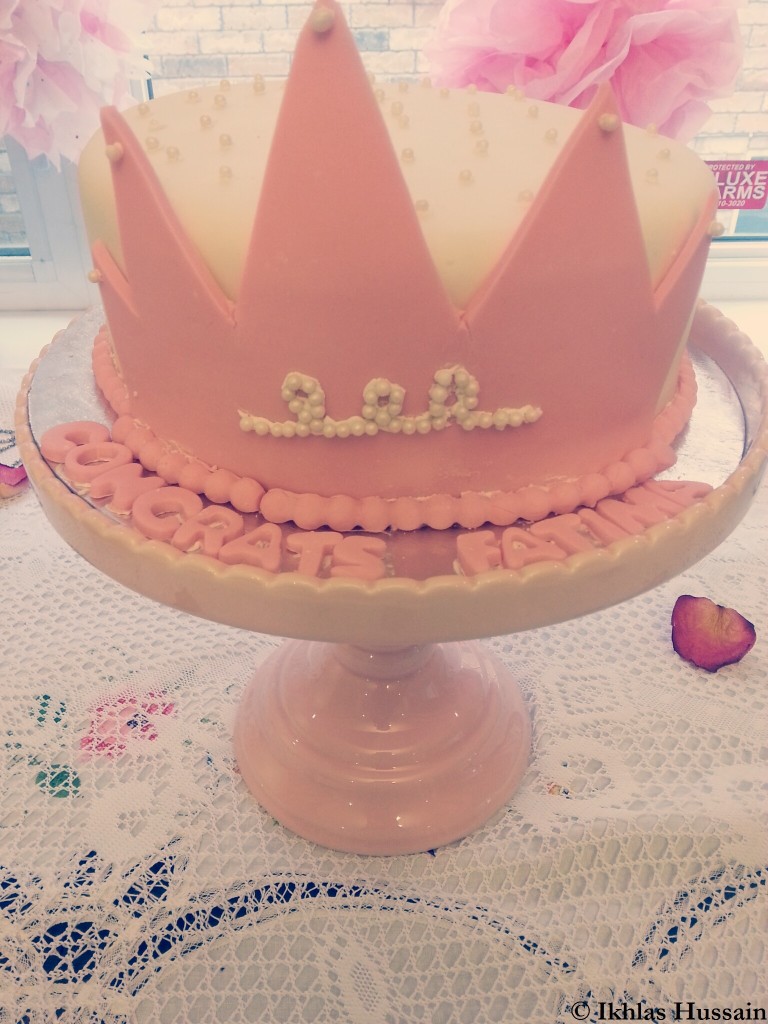 In the centre of the table was a cake that I got made for my friend. 🙂 So it technically doesn't match the theme of the bridal shower, but it was just so cute and lovely that I couldn't resist getting it made. (It's by The Sweet Boutique by Reema, in case anyone's wondering). It was chocolate flavoured inside, with mocha frosting. 🙂
The savoury menu consisted of tea sandwiches (egg salad and cucumber), salsa dip (need to post this recipe soon!), my favourite pot pies, mini pizzas, chicken wings, stuffed mushrooms, and spanokopita.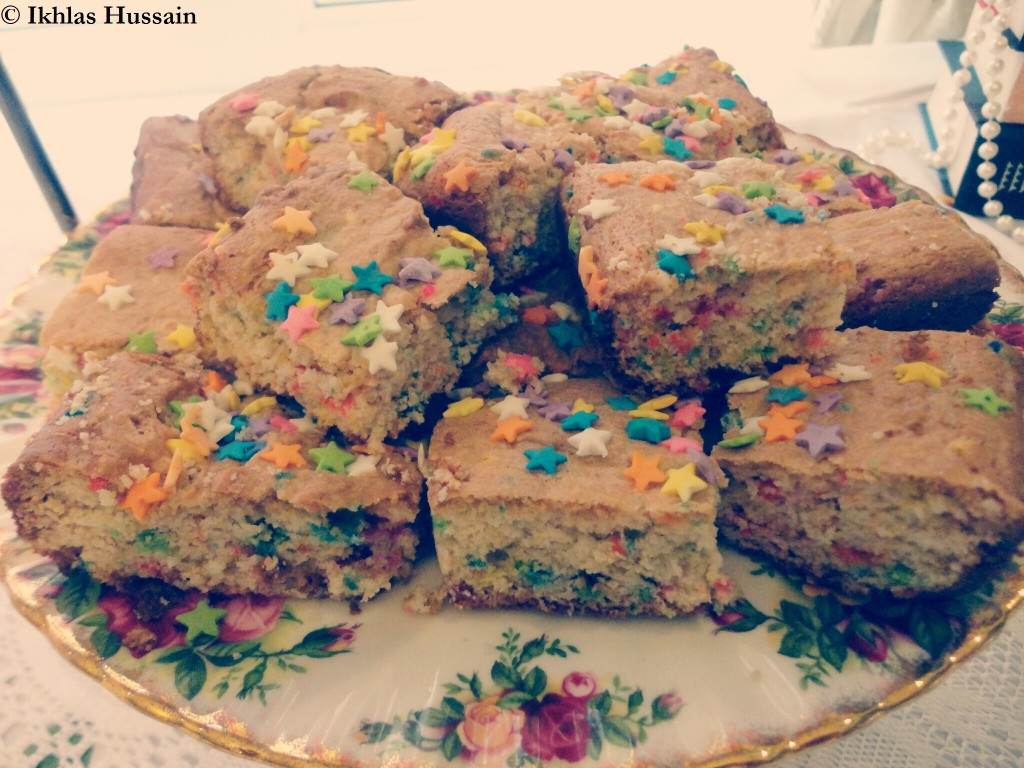 Then for dessert, I made cake batter blondies, chocolate cake pops, and mini oreo cheesecakes. They're all things that I've made before, and I didn't want to experiment with anything new so I stuck with what favourites. 🙂
I also had classical music playing in the background, to set the stage, which was a lot of fun. We also played some classic bridal shower games, like who knows the bride the best and memory lane.
Overall the party was a success! Some of my friend's guests ending up cancelling so I had a lot of food leftover, but I didn't mind at all since I'd hardly eaten during the party and got the enjoy a nice plate afterwards. 🙂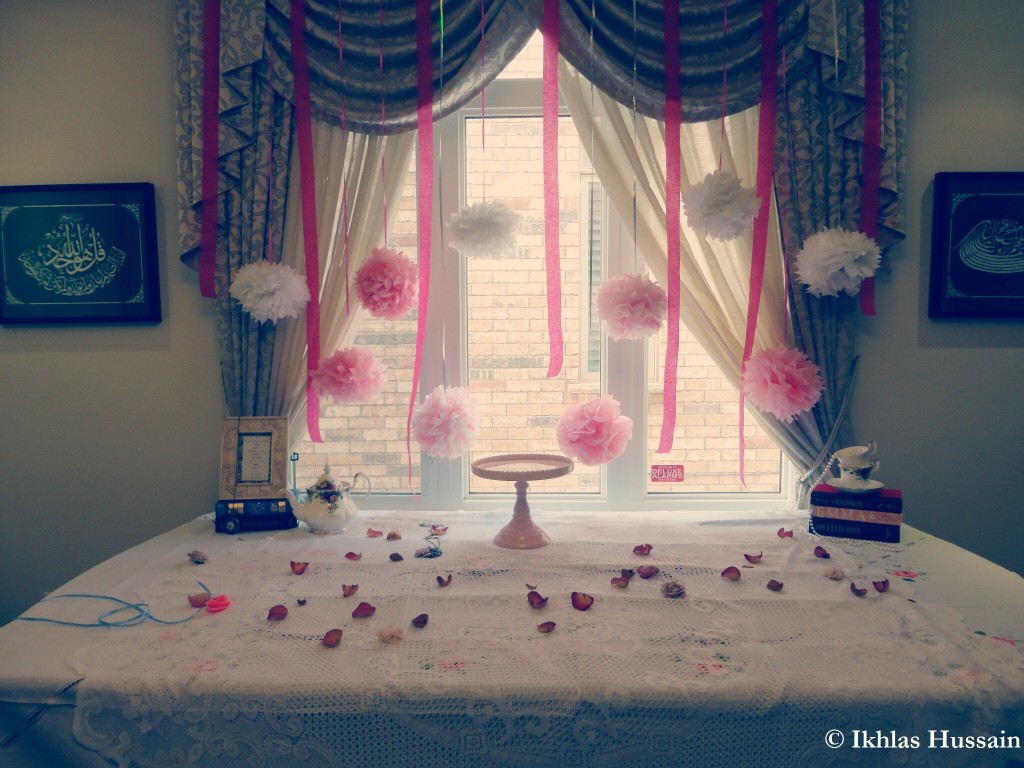 The party was a lot of work, but it was a lot of fun! It was especially nice to see my friend enjoying it all since it was in her honour!
And now it's back to the humdrum of school. 🙁 Because of the party, I neglected a lot of school stuff so that I could prepare for the party and it's a bit scary to catch up with everything I've let slip through the cracks.
But the best thing about coming back to school after practicum? Only 2 more weeks of school left for the holidays!
Hope you all had a lovely Monday!
Thanks for reading,
Ikhlas